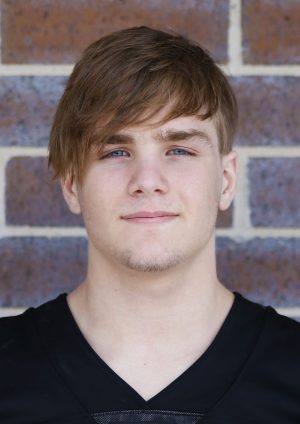 Athlete name: A.J. Steenbeke
Sports: Football, wrestling. 
Graduation year: 2023
Position: outside linebacker, wrestles at 160.
Height: 5-10
Weight: 160 
Combine results:  Bench – 185; front squat – 245; hang clean – 185; 40-yard dash – 5.0; pro agility -4.6; broad jump – 8-3; vertical – 24 inches.
Statistics: State Finalist Wrestler as a Freshman in 2019-2020 season, 26-8 won-loss record.
Head coach/email: Brad Harper (Wrestling) – bharper@phm.k12.in.us; Cory Yeoman (Football) – cyoman@phm.k12.in.us
Coach's quote: "When it's 'go time,' you don't want to be on the mat or football field with A.J. Steenbeke. It's like a lion when he flips the switch to go after its prey." Penn Wrestling Head Coach Brad Harper.