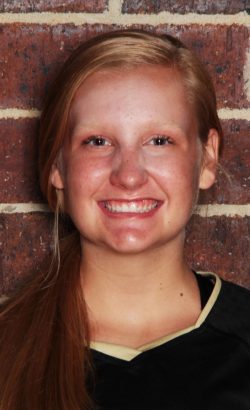 Athlete name: Emma Hickey
Sport: Volleyball
Graduation year: 2022
Position: Outside hitter
Height: 5-7
Weight: 130
Combine: Bench: 95; Hang clean: 110; Front squat: 150; Jump: 6-10; Vertical: 23 inches; 40-yard dash: 5.96; Pro agility 40-yard dash: 5.03.
Stats: Ranked No. 12 recruit in Indiana, No. 87 in the nation. Click here for stats.
Honors/accomplishments (athletic and academic): High honor roll, second-team all-state freshmen year; first-team all-conference sophomore year.
Extra-Curricular activities/Service projects: Church service projects; Samantha Hickey Foundation.
Head coach/email: Lisa Pawlick – lpawlick@phm.k12.in.us
Coach's quote: "Emma Hickey is an amazing young lady who could be described as diligent, competitive, and hard working.  She is a strong leader and continues to improve daily.  She has a passion for defense and is going to be a strong contributor at the next level.  Luckily we have her for one more year."