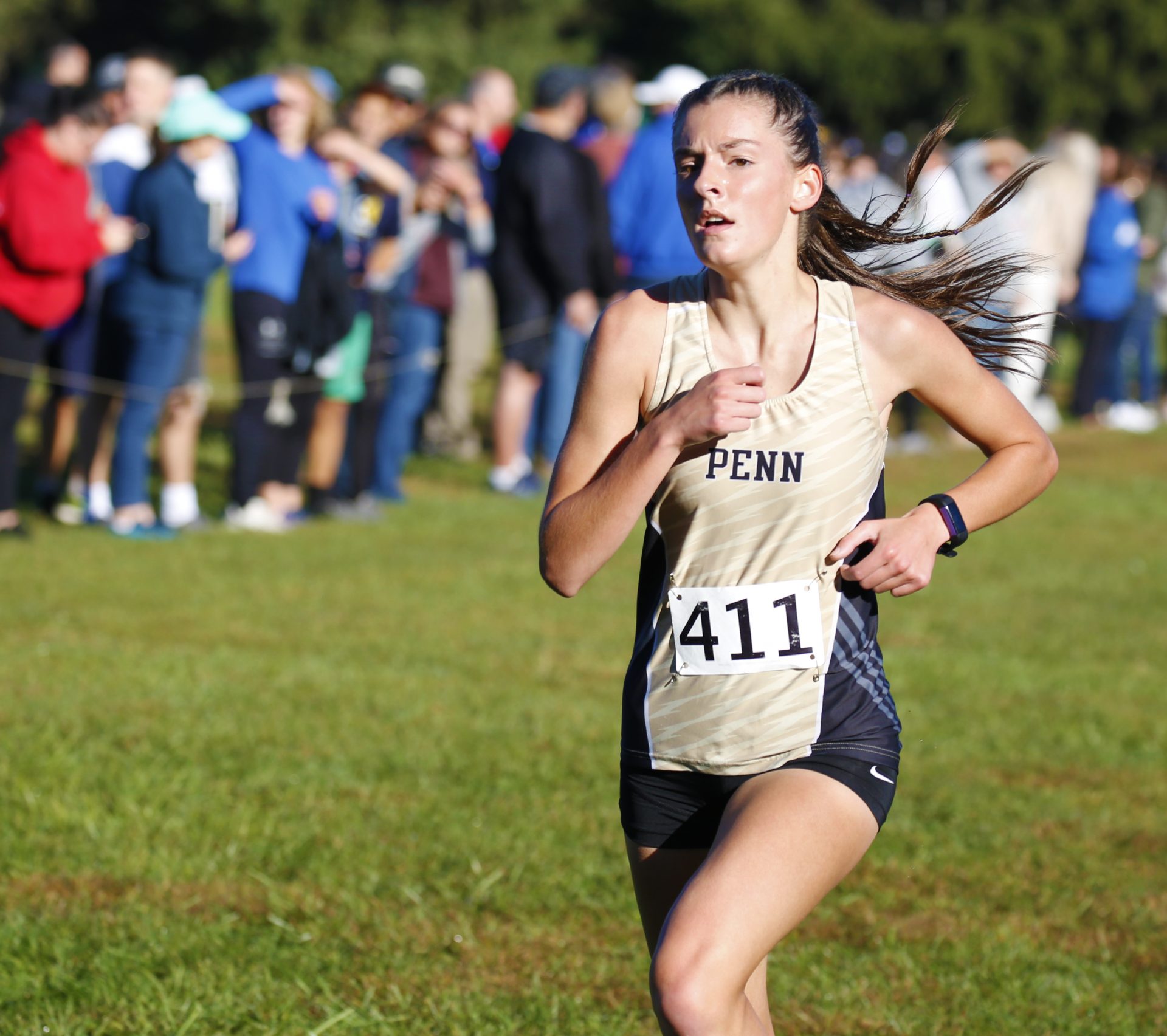 Penn Runner Mary Eubank is Making Huge Progress at The State Level
Mary Eubank (Jr.) is in her third year of running for the Penn Cross Country and Track teams. This year she is striving to add more accolades to her resume. 
This comes after a cross country season where she finished 18th in the IHSAA State Meet at LaVern Gibson on March 29 with a time of 18:37. 
Eubank's lifetime personal best in the five-kilometer race is 18:11, a time run at the Indiana Wesleyan University Course at the Semi-State race. 
With improving her time each season, the Pennant asked Eubank how she was able to develop as a runner. 
"Over time I slowly increased the intensity of my training every season. Sophomore year I took a huge step forward because I took weights for the first time, which led to a huge improvement in power and running form," Eubank said.
Eubank explains that she has been adding more stimulus to workouts to help her improve. 
"This year I am trying to make my workouts faster, and I started occasionally training with the boy's team to replicate the competition I would get in a state meet situation with faster girls. Every year I also get mentally stronger by overcoming mental barriers and learning how to manage nerves in high-pressure races."
Teammate Aubrey Morgan (So.) believes that it is no surprise to see Eubank's accomplishments in running.
"Mary is the most dedicated to running, she goes above and beyond when training to see the best results. Mary is also one of the most positive girls on the team, when there's bad weather and everyone is tired she always keeps a positive mindset," Morgan said.
Penn Girls Cross Country assistant coach, Coach Starkweather had similar remarks as Morgan. 
"Mary is one of the most motivated runners since I have been coaching at Penn. She is always looking toward the extra step for what will make her better every day. Eubank is so dedicated to running that she has even trained with the boys during the Winter Track Season," Coach Starkweather said. 
Eubank is not the only one in her family who participates in running at Penn. Scott Eubank, younger sister of Mary Eubank, has said that his sister has allowed him to be more competitive.
"Ever since I started running in 6th grade I would try to beat her and I think that it motivated her to beat me in everything (which she always succeeded in doing). That competition made her a lot faster too. Even when we weren't on the same cross-country team anymore, whenever I beat one of her PRs she would always seem to blow my time out of the water the next chance she got. For a long time, my goal before any sort of race was to be faster than Mary, which made me a lot faster." 
Eubank has stated she has several goals she would like to accomplish while in high school. 
"A big goal that I want to achieve is to break the school records in the 3200, and 1600, and possibly get the record in cross country as well. After high school, I definitely plan on running DI in college," Eubank stated.
Younger brother Scott Eubank believes that with his sister's work ethic, she can achieve the goals that she has set for herself. 
"Especially in running, Mary always gives 110%. Even when she has no one to run with, or no one to tell her to run, she gets a workout in. She's a real-life example of the idea that if you work hard in practice, you'll work hard in a race."
While Eubank has many accolades and accomplishments on the course, her teammates and coaches have made it clear that Eubank is not just a runner, but a leader.
"Mary is very considerate of others on the team, and a very supportive person no matter who it is. She shows compassion to everyone on the team when they are struggling to finish a workout or if they just had a bad day," Morgan said.
"Last year she was only a sophomore and she didn't really need to take the place of a leader on her team. But in 2022 she's one of the more experienced runners on her team so she had to be someone people looked up to. For freshmen, she was an example of someone who did everything she had to do to be elite.," younger brother Scott Eubank said.
Eubank is not only viewed as a team leader but one of the most coachable athletes in the Penn Program. 
"My favorite aspect about coaching her is that she never complains or questions what we tell her to do. She is always looking for an opportunity to get better no matter what and has a positive attitude about improving," Coach Starkweather.
Being an athlete and a student, Eubank has found a balance between managing the workload between the two.
"It can be overwhelming to think about upcoming tests and projects while training, fueling, and going to meetings. I try to take things one day at a time. One way I do this is when I have a big meeting coming up, I don't let myself get nervous until the day of," Eubanks said.
Eubank is planning to finish her career strong within Penn Cross Country and laid out the details of the team to the Pennant. 
"After finishing sixth in the state this past fall, I think we have a good shot at finishing top five next year. We will have a strong pack of returning runners who keep improving and working hard through the off-season. Individually, I would like to run a 5K in under 18 minutes and my teammates also have ambitious goals so when we come together as a team we will have both the depth and the frontrunners that a team needs to be successful in cross country," Eubank said.
Eubank with all of the accolades and accomplishments thus far continues to progress and get better every day.
Each day Eubank inches closer to finally achieving her goals and coming to a school record holder in a running event at Penn.
Eubank, along with her teammates, believes that with continued effort and discipline, Penn Girls Cross Country and Penn Girls Track will make quite a bit of noise at the state level in the coming years.