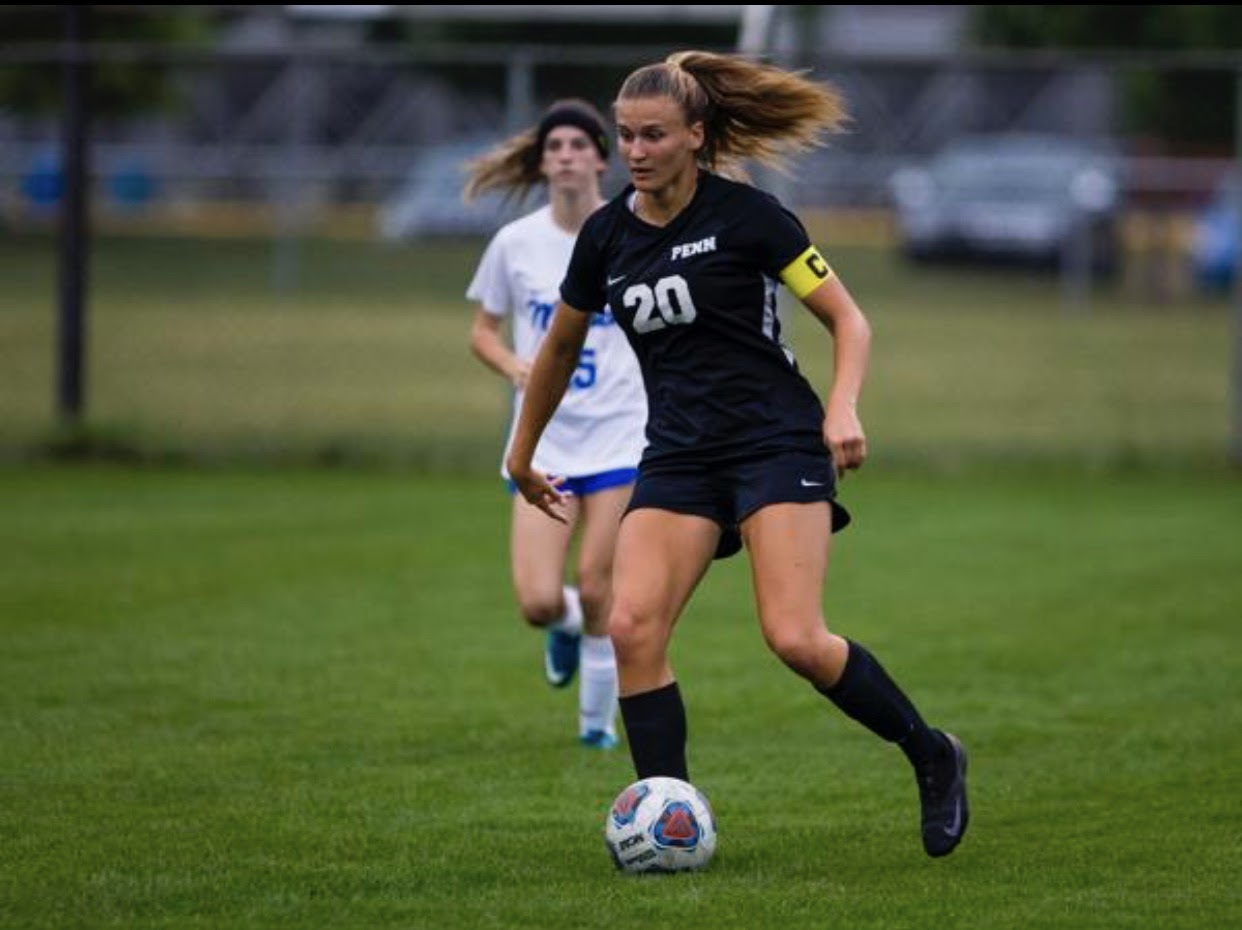 Hannah Roberson is a senior who plays Soccer for the Kingsmen. She has committed to IUPUI.
What age did you start playing soccer?: I started playing soccer when I was about four years old. According to my dad, I was the average little kid that would pick the grass and do cartwheels instead of playing the game.       
What is your favorite pre-game ritual?: My favorite pre-game ritual would have to be having pasta the night before every game. It's something I've done since freshman year. I also go out about three hours before game time to get some extra touches in with my dad.
What was your biggest fear playing Penn Girls Soccer your first year?: My biggest fear going into PGS freshman year was knowing how good the varsity team already was. They had just got off a state championship and had numerous college commits. They were pretty intimidating. They set the standards for Penn soccer players extremely high and were natural-born leaders.
What is the hardest thing for you every game?: The hardest thing for me during the game is that if I get frustrated, I have to control it. Sometimes if the game isn't working in your team's favor, it can be a tense environment and can take a toll on you.
How excited are you to be going D-1 and playing soccer with one of your best friends?: I can't even put into words how excited and grateful I am to be able to have both of those happen. I started taking soccer seriously during freshman year and realized that college soccer was something I had to pursue. I was very fortunate to get recognized as a recruit for IUPUI. As for being able to play with Maya, there's nothing I'm looking forward to more. She's significantly helped me become the player I am today. She's my training buddy for everything whether it's lifting, conditioning, or training. It's great to be able to say I'm playing college soccer, but not many can say they get to do it with their best friend. I can't wait to see what the next couple years at IUPUI  have in store for us. 
What is your favorite hype-up song you listen to before every game?: My go-to hype-up song would have to be "Can't Hold Us" by Macklemore and Ryan Lewis.
Who has inspired you the most in your life?: Maya Lacognato has inspired me to be the best player I can be. Some of the best advice she's given me is to not compare myself to other players and when the going gets tough to use it as motivation and fuel my love for the game. It's something that has stuck with me and will continue to stick through the rest of my soccer career. Brynn Dauby has also inspired me to stay focused on the game in front of me. With two torn ACL's,  she's one of the strongest mental players I know. Her drive to get back to the sport inspires me to be mentally attached to the game and also be grateful for the opportunities I have in front of me.
What is the best advice you could give to the underclassman?: The best advice I could give to underclassmen would have to be to work on your own and train like you'd want to play. It will help in the long run.
What are you going to be studying in college?: I am going to be studying exercise science. It will help me stay on track down the road of being a physical therapist or physician's assistant.
What is your favorite memory you've had from Penn Girls Soccer?: My favorite memory hands down would be winning the regional championship last year. Having Sydney Domal score with 30 seconds left in the game and the bench/stands going completely wild. Celebrating with my team after beating two tough competitors in one day leaves an extremely accomplished feeling afterwards.  I felt like I was on Cloud 9 and it's a night I will never forget.