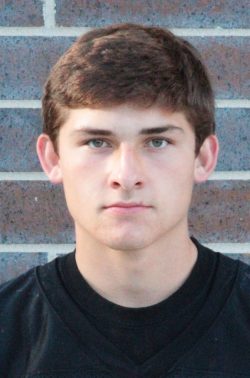 Zack Messer is a Senior at Penn High School. He is a linebacker for the Kingsmen Football Team, and is a catcher for the Baseball Team, and is an all-state candidate in both sports.
How long have you been playing football and what was your reason for starting?: I started playing football when I was eight years old and my reason for starting is the overall love for the sport that runs in my family. 
You're a Defensive beast on the field; what made you want to play defense making big hits rather than scoring touchdowns playing offense?: As most players that still play football in high school, throughout youth football I played on both sides of the ball. While doing this I always enjoyed doing the hitting more than being the one getting hit.
What has been your favorite memory in the four years of playing high school football?: My favorite memory in the four years of playing high school football has to be celebrating the win at Saint Mary's Prep my sophomore year. I can still remember Coach Cory climbing on a table and jumping up and down in the locker room and then falling off. 
What are you most excited about heading into state play?: What I'm the most excited about is to prove how good we really are because our record doesn't show that. 
Do you have any pregame superstitions, or do you just go out and play?: I just go out and play. 
Who is an NFL player that you feel you may model your game after: One NFL player that sticks out in my mind is Troy Polamalu. I would say him because of how versatile of a player he is. Throughout my high school career I've played some strong safety, outside linebacker, and most recently a little bit of middle linebacker. 
What are your plans after high school?: After high school I plan to keep studying and get a college degree in a business major. 
How important was it to come out with a win on senior night?: Coming out and getting a win on senior night was a huge win that got us back on the right track and put some confidence back into the team. 
What is your go to pre-game meal and song: My favorite meal on game day has to be any type of pasta and my pre-game song is "Pure Water" by Migos.