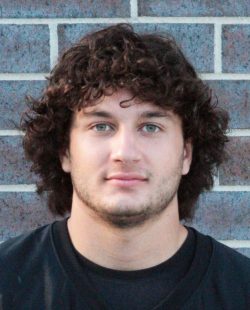 Who is your all time favorite football player and why?: Ray Lewis, because of the amount of inspiration and dedication he played with.
How do you overcome your mistakes made on the field?: I get better and learn from them anytime I make mistakes.
What is your pregame routine?: Drink an energy drink, listen to music, and get hyped with my teammates.
What is your favorite motivational quote?: "Shoot for the moon and then you'll land among the stars."
What is your favorite sports movie and why?: "Remember The Titans", because it has such a good story.
Have you ever had a coach that has always stuck out special to you and if so who?: Coach Harper because he's never failed to motivate me and has always pushed me to become a better athlete and person.
What goals do you have for your Junior season next year?: Be the best team we can be and motivate my teammates in every way possible and personally I would like to earn that varsity spot and become the best I can be at the sport I love.
What will you do in the off season to complete those goals?: Lift anytime I can and spend time with my teammates and create chemistry with them.
What is your favorite pregame meal or night before the game meal?: Spaghetti and meatballs no questions.
What's your favorite moment you have had during your Penn football career so far?: Freshman year we had a goal-line stand against Valparaiso and I had two sacks and my other teammate, A.J. Steenbeke had the other two, and it just felt great to not let the team down and clutch up.