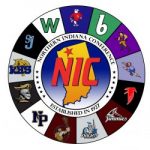 Penn High School's Girls Golf First team rolled to the Northern Indiana Conference championship, and the Kingsmen dominated the all-conference team selections.
Penn's Andi Sandler was named the NIC Most Valuable Player, and coach Dominic Demeter was named the Coach of the Year.
Andi Sandler, Kristin Holt, and Lyvia Li were named first-team all-NIC.
Grace Szklarek was named second-team all-NIC.
The Kingsmen finished the NIC season with a 12-0 record.