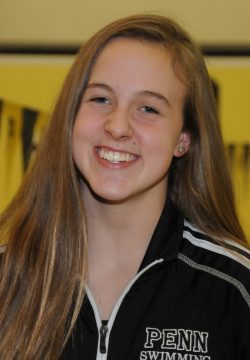 By ALYSSA MESSENGER
How does being a swimmer affect being a student?: It helps me structure my life to be more organized and responsible. 
What's your favorite part of being a member of the swim team?: I love being a part of the team because it's a second family. I can also rely on everyone on the team. 
How do your teammates make practice fun, but also motivate you?: I love the friendly competition with my teammates because they always push me, but make it fun at the same time.
How do you get ready before a big swim meet?: First, I get super nervous. I have to mentally prepare and visualize before I race. I also stretch before every race. I have to eat Jimmy Johns too. I also talk to my friends, to get into my racing mindset. 
What emotions do you get before a big meet?:  I get super nervous before I swim, but my friends help me get excited before I get ready to race. 
What are your long term swimming goals?: My first goal is to get a scholarship to swim in college. I really want to improve in all my events. I also want to get my name on the record board before I graduate high school, so I am able to replace my sisters name. 
What is your best swim memory?: My best swim memory was sectionals in 2020. The thing that stands out the most was after the 400 freestyle relay when we all jumped in the pool, realizing that we just won after being the underdogs and knowing how proud I was of everyone. I will never forget the excitement and thrill of the Sectional Title and being handed over the trophy. 
What are your favorite and least favorite events?: I can narrow done my favorite events to the 50 and 100 free. My absolute least favorite event during high school is the 200 IM because it causes me so much pain. 
Is there any area you need to improve on?: I need to have more confidence in myself because sometimes I psych myself out and overthinking causes me so much stress. Swimming wise, I need to stop breathing off every wall because Jess and Mary always yell at me for it. 
 If you could do any other sport, what would it be?: I would definitely play tennis because it seems like something I would enjoy, but I am not very coordinated.