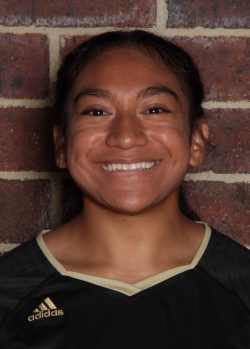 Janet Moala is a Junior Middle Blocker for the Penn Volleyball Team. She is a great team player and loves to win.
How did you start playing volleyball?: I started playing volleyball in fifth grade at Queen of Peace. At the time I went there with my cousins. This was when I began to love the game.
What type of player do you think you are on the court?: I would say I am a dependable player who gets along with everyone.
Is furthering your volleyball career in your best interest?: Yes I definitely want to continue my volleyball career and see what school best fits me. I am also looking into schools that have my major of psychology.
What kind of music gets you most hype for the games?: Honestly anything in the locker room, but it would have be between EDM and Rap.
How do you keep all the nerves and pressure under control during high intensity games?: I know my team really well, that if I were to make a mistake or so they got my back. I trust in my teammates.
What is your coping strategy for bouncing right back and moving forward after a mistake?: I have this rule for myself when I make a mistake I don't react. I acknowledge it but I do not say anything after. This helps me realize that mistakes happen and all that is left to do is be better.
Who is your biggest influencer and motivator?: My brother Kapeli. He's been with me ever since I started playing volleyball. He plays as well so it is nice to have someone who understands the sport.
Pregame rituals?: I usually say a prayer of thanks for being able to play on the floor and even have a volleyball season. I also incorporate my teammates in the prayers asking for strength and guidance.
Favorite Memory of Penn Volleyball?: My favorite moment was when we won the Plymouth tournament and beat Crown Point in the process. This was the starting point of Penn Volleyball being unbeatable.
What advice would you give a young athlete who is just getting started with volleyball?: I know morning practices aren't ideal and summer conditioning is not either but if you grind through the hard times they pay off tremendously. Do NOT give up.