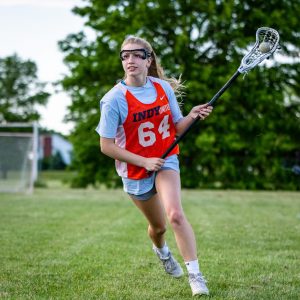 Athlete name: Sequoia Deleu
Sport: Lacrosse 
Graduation year: 2021
Position: Midfielder 
Height: 5-7
Weight: 135
Combine results: Bench: 110; Squat: 150; Clean: 120; 40-dash time: 5.2 seconds; Broad Jump: 6-1
Statistics: 6 Goals, 6 Assists, 30 ground balls, 5 forced turnovers, 2 interceptions, and 12 draw control wins as a Sophomore in 2019.
Honors/accomplishments (athletic and academic): 3.3 GPA.
Extra-Curricular activities/Service projects: Travel lacrosse the past 2 summers for Indy United Lacrosse Club.
Head coach/email: Annie Eutsey – eeutsey@phm.k12.in.us
Coach's quote: "Sequoia is a fierce competitor who strengthens our midfield and is a versatile player who can take on a scoring role as well as lock down the number one offensive midfielder on defense. She would be an asset to any college and can play at the next level while pursuing her degree." – Shawn Bays (Penn Girls Lacrosse Assistant Coach)
Click here for a highlight.