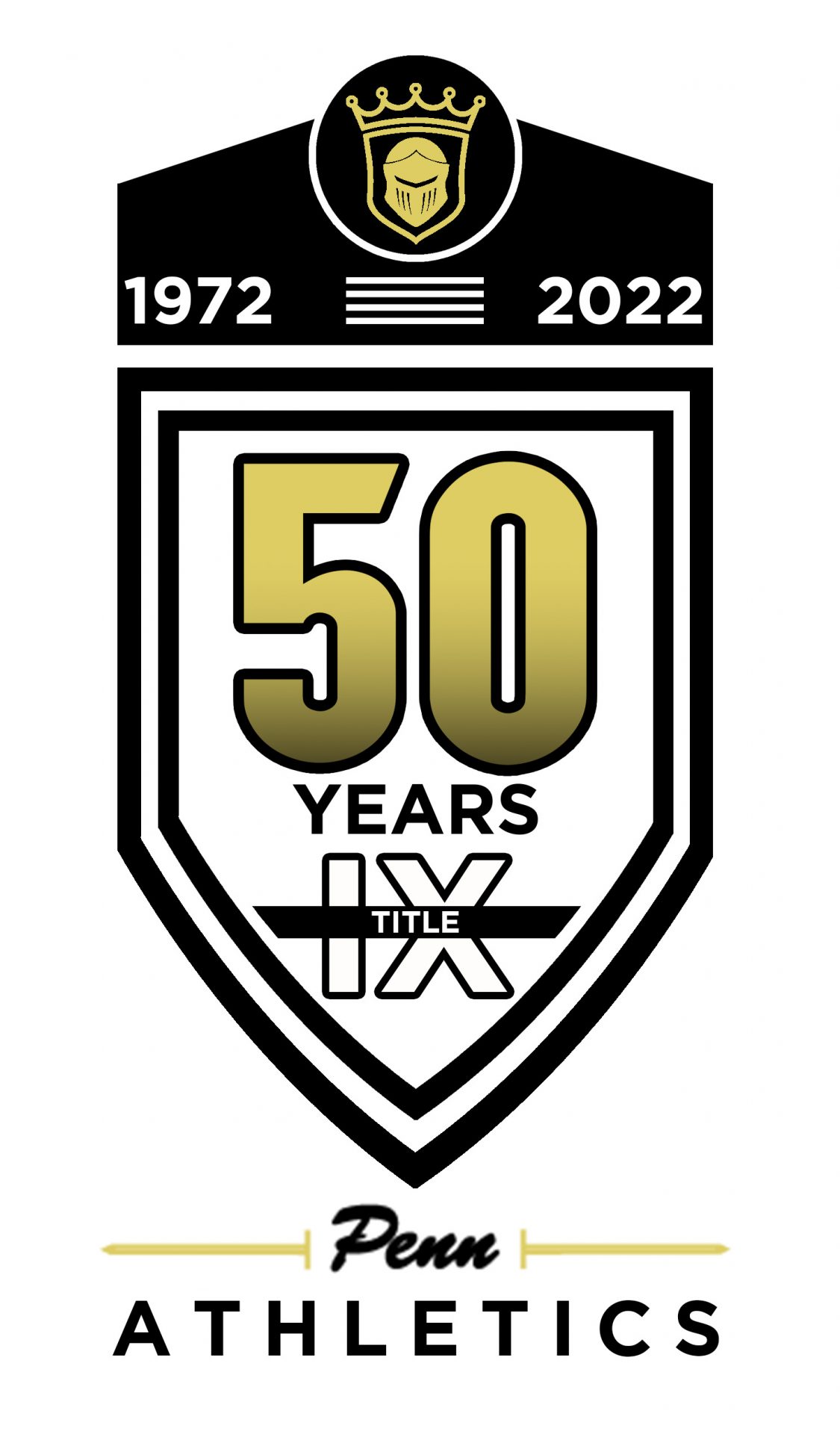 The Pennant is celebrating 50 years of Title IX and Kingsmen Girls Sports by showcasing some of the top female athletes in Penn Athletics History. The athletes featured were selected by coaches and Athletic administrators.
By GRACIE VOSS
Penn High School Assistant Athletic Director Bridget (Pluta) Wiliams has made a significant impact on the success of female sports at Penn.
Williams excelled at Softball, Basketball and Volleyball all four years at St. Joseph High School, and played Softball for the University of Illinois. She is in her 11th year as an Assistant Athletic Director at Penn. She has many accomplishments and is a role model for all girls in athletics.
In high school, Williams was the first female to earn 12 varsity letters at St. Joe. She was the Burger King Student Athlete of the Year and the South Bend Tribune Female Student-Athlete of the Year. 
Williams finished her career breaking 14 school records which have since been broken, but she still holds one distinction the first St. Joseph female to score 1,000 points. She was invited to participate in the Indiana Top 40 workout, and was a two-time Metro All-Star. 
In her high school Softball career, she belted 2 home runs in a single game, was a three-time sectional champion, a two-time regional champion, and was named second-team Team All-State. 
In Volleyball, Williams led St. Joe to sectional and regional championships. She then went on to earn a scholarship to play softball at the University of Illinois. She was a member of the first varsity softball team at Illinois and played against the USA Olympic team. Her team also qualified for the NCAA softball regionals in two out of four years. 
At the University of Illinois, she earned a Bachelor's degree in Speech and Hearing Sciences at the University of Illinois. She worked a couple of years as a Speech Language Assistant in the South Bend School Corporation and coached softball and basketball at St. Joe.  Then, she went back to school to earn a Master's from Ball State in Sport Management.  She worked a few years as a Speech Language Assistant through Joint Services and coached softball and basketball at Penn. 
"Athletics have always been a huge part of my life," Williams said. "Having an older sister, I grew up on the court/field.  I started playing at a young age and continue to try to be active as much as I can. 
"I have two kids and they are now getting into sports, which is so exciting and rewarding for me to watch them," Williams said.
According to Williams, being involved in Athletics helped her become the person she is today. 
"(Athletics) has taught me so many valuable things and helped to develop/strengthen characteristics to help me to succeed later in life, such as cooperation, time management, leadership, etc." Williams said.
Williams believes it's important for young people to get involved and experience the different aspects athletics provide. She has made friendships over the years in the teams she has played for.  She believes that going through challenges and working together helps bring people closer.  Williams added that children learn to listen and follow directions and that many skills you learn on the field or court translate into skills needed in the classroom or your professional career.  She adds that it also helps build character, leadership qualities, and learning/growth!
In her freshman year of college, one week before the official spring season started, she tore her ACL. She lost her starting position as first-baseman. She went through moments where she felt left out or as if she didn't belong. Being behind brought her spirit down. She missed the fall season, with her injury lasting six months, but came back for winter.  However, athletics helped her overcome this challenge and come out stronger than before by working hard, setting goals, and pushing herself to get back stronger than ever.
 "I remember stepping in that first day to run sprints with the team," Williams said. "It was very rewarding to get back out there with my teammates."
Williams was asked how she felt about the current state of female athletics. She thinks female athletics has come a long way thanks to Title IX. 
"I was a part of the very first softball team (at Illinois)," Williams said.  "It was very exciting to be a part of the first!  We were the team to set the standard for success and pave the way for future athletes.  In that first year, for fall practices, we had to practice on the intramural fields, as we did not have a facility yet.  
"By the time spring season came around, we were able to play our games and practice on our brand new field, in our brand new stadium," Williams continued.
Williams is proud of the progress of female sports at Penn. She noted the improvements made in facilities and the success of Penn's female sports teams. She is excited to see the future improvement and growth that Penn can accomplish.