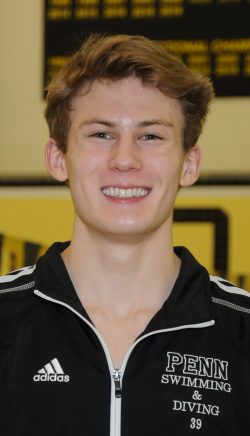 Connor Craig, a Senior, is a State Champion swimmer for Penn.
How did you get into swimming?: I've been swimming since I was around three, but I really started to get into it competitively when I was about seven.
Why did you decide to stick with it and keep training?: I think the team aspect and making friends is what has kept me in the sport.
What events do you swim?: I swim sprint freestyle and breaststroke events.
Which is your favorite?: I like breaststroke the most because there's an abundance of ways to be able to perfect my stroke.
Do you plan to continue swimming past high school?:  I'm on track to swim Division 3 in college.
What does it mean to be a swim team captain?: Being captain on the team means to me that I need to represent every person on the boys team and to prioritize my team ahead of myself. Empathizing and understanding each of my teammates personally is something I additionally focus on.
How are you able to be a good leader for other members of the swim team?: Working with the girls' team captain to come up with solutions for team problems, being a good role model, and connecting with my teammates as friends, not just teammates.
Has swimming taught you any lessons that help in other areas of your life?: Swimming has taught me to keep structure in my life and that staying busy will keep my priorities in check.
Can you tell me about the discipline required to excel athletically as well as academically?: It's pretty much all about balance. I let go of all school thoughts and just aim to have fun and get better during practices, and outside of practices/meets I focus on schoolwork before doing anything else.
What is one word to describe you as a swimmer?: Diligent would be one word to describe me because of my refusal to give up.