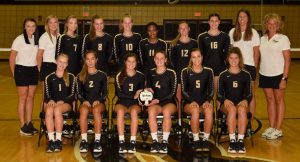 Penn High School's Volleyball Team opened the 2018 season with a 3-0 sweep at NorthWood on Tuesday, Aug. 14, 2018.
The Kingsmen defeated the Panthers 25-18, 25-15, 25-14.
Addy Kois dished out 20 assists and Ally Hickey contributed 10 assists to the Kingsmen attack.
Emma Hickey worked for 16 digs, and Maria Schwindaman had 8 digs.
Alyssa Torres helped Penn turn back NorthWood with 6 blocks.
Maria Schwindaman and Molly Pooler soared at the net for 10 and 7 kills respectively.
Addy Kois blasted 2 aces.
Penn's Junior Varsity defeated NorthWood 25-19 and 25-18.
The Penn freshmen opened with two victories. Penn beat NorthWood 25-18 and 25-15, and defeated Glenn 25-21 and 25-13.