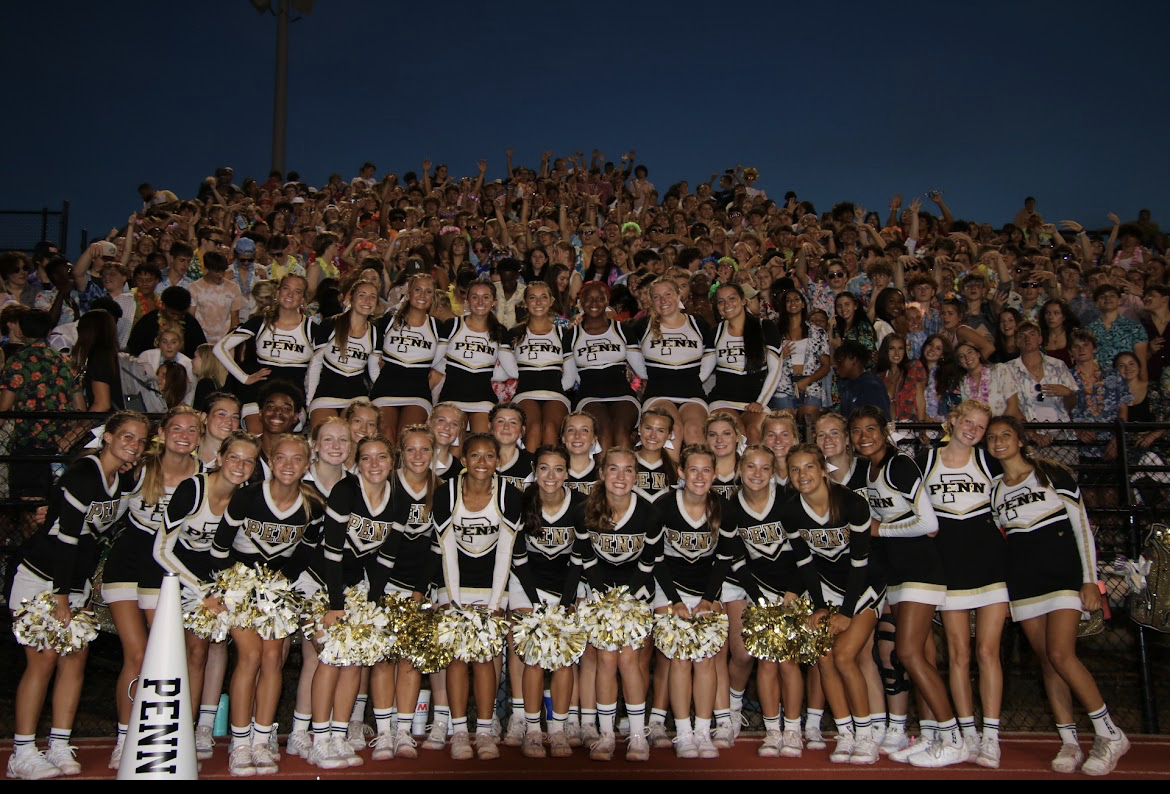 Fall may not be everyone's favorite time of year, but to many high school students it contains the best season: football season. At nearly every game, cheerleaders are found scattered across the track, with their white glittery bows and their gleaming smiles. From flipping to stunting, the cheerleaders put a lot of effort into the routines they perform on game days.
Once football season comes to a close, the Penn cheerleaders head inside to the basketball court to continue the enthusiasm. They prepare new routines to put on before the crowd and many new skills are acquired along the way, but not too long ago, cheerleaders were only required to know how to do jumps and project their voices. The program has changed much since then.
Penn female athletics in the nineties started to get rolling. Brooke Payne, a former Penn Cheerleader during the nineties, brings up the idea of cheer being considered a sport at Penn. She notes that the nineties were an exciting time for cheerleaders, from new uniforms to the confirmation of their role in Penn athletics.
"Cheerleading was different from the other athletic teams because back then, we weren't really considered to be a part of athletics. In fact, classifying cheerleaders as athletes were something that was just starting to be discussed in the early nineties," Payne said.
Payne also notes that the skills needed back then were very minimal, and the cheerleading world has changed so much setting new standards for cheerleaders. Many of Penn's own cheerleaders are a part of outside cheerleading programs that help boost their skills in stunting and tumbling, which is always a nice bonus to bring to the school teams. With that being said, these competition teams weren't quite established yet in the nineties, which made the team consist of different skills than what today's cheerleaders have. 
As the years progressed, so did the skills. Melissa Horvath, former Penn cheerleader, and current JV Coach have been through the transitional phases of Penn Cheerleading. Horvath notes that the sport has changed into a more physical sport, with lots of physical skill required to perform essential parts such as stunting. 
"Cheerleading in general has changed a lot in the past decade. It's progressed into a true sport, with a need for high physical skill. Cheerleaders try to impress or wow the crowd with new stunts and routines at every game. It's exciting to see cheer grow & evolve from stunts, rules, uniforms, & and props," Horvath says. 
The Penn Cheerleaders have an unmatched spirit that they bring to each and every performance, whether it's a cold Friday night game or a bustling basketball game. Many student spectators enjoy the presence of cheerleaders, and this is known to be true throughout the years. 
Angelina Smith, a sophomore at Penn has created many friendships with the Penn Cheerleaders, and she enjoys watching them and the creativity within each new stunt every game. While all of the performances are pleasant to watch, she notices something more important, and that is the bonds they have formed with one another. 
"As many of my friends are Penn cheerleaders, I have attended and seen many Penn cheerleading performances and practices. I think the teams are well-developed and everyone seems to have a close bond with each other. Making them look like not only a cheerleading team but a true athletic team," Smith says.
With all of that being, Penn Cheerleaders are the heart and soul of athletics, never afraid to bring new ideas to the table and always willing to try new things. Considering all the aspects of cheerleading at Penn, it has gone from a support team to a sports team, and the cheerleaders continue to bring immense creativity and improvement to the program, leaving them nowhere to go but up.