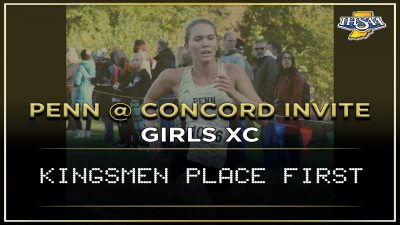 The Penn Girls Cross Country Team ran away with the team championship of the Minutemen Invitational on Saturday, Sept. 12, 2020. The Kingsmen held their Senior Night at the meet.
Penn finished with 28 points, followed by Northridge with 88 points, and Elkhart with 113. A total of 14 teams competed in the meet.
Penn's top five runners placed in the Top 10, and seven Kingsmen placed in the Top 20.
Mary Eubank led the Kingsmen effort, finishing second with a time of 19:53.67.
Julie Smith placed fourth (20:00.81), followed by Ava Gillis, who was sixth with a time of 20:16.36. Nikki Jerzak placed eighth in 20:24.59, and Haley Mackowski was ninth in 20:27.58. Ellie Stabnik was 12th (20:43.93) and Mackenzie Holland was 17th (20:55.38).
"It was a great day to be a Lady Kingsmen at the Minutemen Classic," Penn Girls Cross Country Head Coach Michael Clements said. "On our Senior Night, both the Varsity and JV did a fantastic job celebrating our seniors with their performances, winning both races in dominant fashion.
"I've been incredibly honored that this group of 13 seniors has let me coach them during their cross country careers," Clements said. "Not only do they give 100% effort and 100% positive attitude every day, but they are a group who embodies servant leadership, never shying away from being the ones to carry equipment or set up team camp.  I can't wait to see what the rest of this season holds for both our seniors and the rest of the ladies."
Click the PDF for complete results.