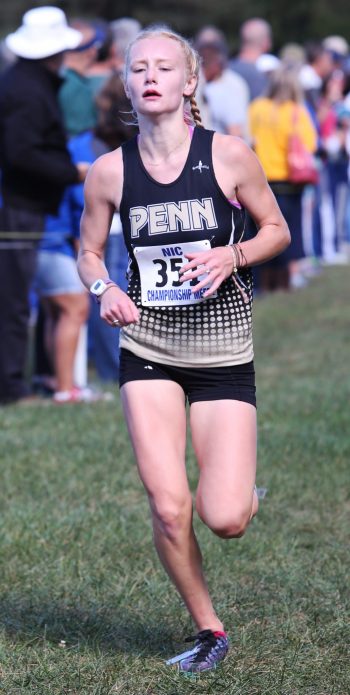 Penn's Dani Spring lunged across the finish line to edge Elkhart Memorial's Morgan Dyer to win the Elkhart Cross Country Regional Championship individual title, and lead the Kingsmen to the team title on Saturday, Oct. 14.
Spring led a Kingsmen contingent that placed five runners in the Top 19.
Penn's Regional Championship is the 17th in Program history, and fourth in the past five seasons.
Spring finished in 18:53.8, a half-second ahead of Dyer.
Lauren Frank finished in fourth for the Kingsmen, running the 5K course in 19:25.48.
Brooke Neal placed 10th in 19:50.10.
Ellie Jankowski was 11th in 19:54.28.
Haley Makowski placed 19th in 20:33.43.
Complete results: