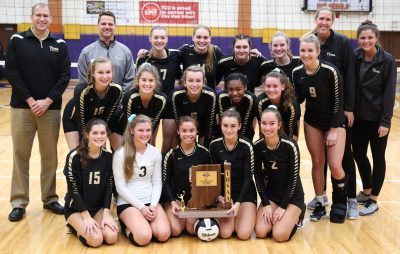 Penn High's Kingsmen Volleyball Team, ranked No. 12 in the state, overpowered No. 16 LaPorte, 25-14, 25-13, 25-16, to capture the Class 4-A South Bend Sectional Championship on Saturday, Oct. 14.
The Sectional title was the 14th in Program history.
Penn didn't lose a set in storming past South Bend Adams, Mishawaka and LaPorte for the Sectional title.
"I'm so proud of these girls tonight," Penn Head Coach Sarah Hendricks said. "They played with heart and as a team.
"Naomi Willis is 5-foot-4 and played like she is 6-foot-4. Ally Hickey had an outstanding performance and led us in kills."
Hendricks said that Penn's defense was essential in turning back the LaPorte attack.
"Our defense was amazing," Hendricks said. "Sophia Cruz, Rachel Hickey and Julia Beers were digging everything. LaPorte had some outstanding hitters, and our defense was shutting them down. We played with energy and executed our game plan. It was a great night."
Ally Hickey blasted off to lead the Kingsmen with 14 kills. Italia Fields had 13 kills and Alyssa Torres had eight kills.
Naomi Willis directed the Penn offense with 36 assists.
Rachel Hickey led the Kingsmen defense with 19 digs. Sophia Cruz had 18 digs and Kylee Hixenbaugh had 10 digs.