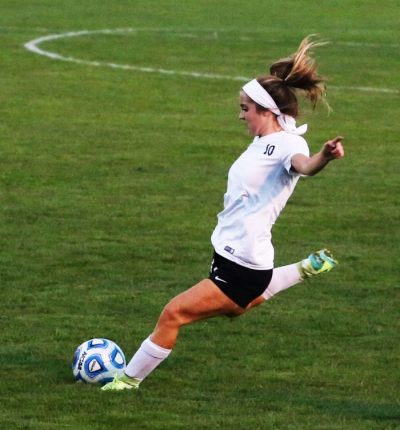 Brooke VanDyck's exceptional soccer skills have helped the Penn High School Girls Soccer Team become Indiana's Gold Standard.
When VanDyck, a junior, wraps up her Kingsmen soccer career, she hopes to help the University of Notre Dame women's soccer team raise championship banners as well.
VanDyck, who helped lead Penn to a state championship last season and the No. 1 ranking in the nation this season, verbally committed to continue her academic and athletic careers at Notre Dame.
"I think undoubtedly Notre Dame is one of the most prestigious universities throughout the country, so I am thrilled to be able to continue my education there," VanDyck said. "The soccer portion is just as exciting – being able to step into such a talented program in the Atlantic Coast Conference is a dream come true."
VanDyck said that the Notre Dame coaches and players were incredibly impressive when she visited the Irish.
"The coaches of the program are unbelievable and I know that not only will they be able to push me to improve my game all around, but also mold me into a better person," VanDyck said. "Also, the amazing players from all over country that Notre Dame brings in creates a thriving environment for each individual to push and get better."
VanDyck will be lining up against current Penn teammate Kristina Lynch in ACC action when the Fighting Irish take on Florida State. Lynch is a Seminoles' commit.
"Kristina is such a close friend of mine; we have been playing together since we were kids in club and high school," VanDyck said. "Practicing with her every day, I know we push each other to become the best players we can be.
"I know she is going to do great at Florida State, but will just have to get used to losing to Notre Dame every year," VanDyck joked.