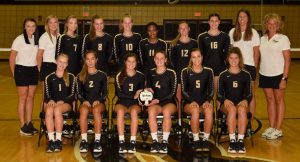 Penn High School swept Fairfield, 25-16, 25-16, 25-17, in the Volleyball home opener on Thursday, Aug. 16, 2018.
The Kingsmen Volleyball Team hosted future Kingsmen student-athletes on Middle School Night.
Penn's Girls Soccer Team turned out in full force to cheer on the Penn Volleyball Team.
"It was so fun to be at home with our middle schools and girls soccer teams supporting us," Penn Volleyball Head Coach Lisa Pawlik said. "It was a great team win and lots of smiles."
The Kingsmen Junior Varsity beat Fairfield, 25-13, 25-16.
Penn Varsity stats:
Aces: Maria Schwindaman 3, Ally Hickey 2, Emma Hickey 2.
Kills: Maria Schwindaman 13, Ally Hickey 8, Alyssa Torres 6.
Blocks: Molly Pooler 3, Amari Torain 2, Alyssa Torres 2.
Assists: Addy Kois 15, Ally Hickey 11.
Digs: Emma Hickey 7, Ally Hickey 5.