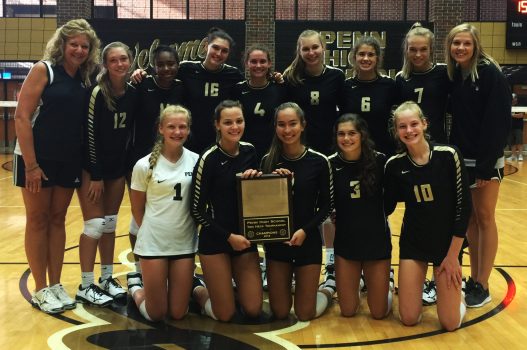 Penn High School's Volleyball team shook off an opening loss in Pool Play and fought back to win the Championship of the Tom Heck Invitational on Saturday, Aug. 18, 2018.
"To lose the first match in a battle and come back to win the tournament in honor of Tom Heck, I am so proud and excited for these special young ladies," Penn Volleyball Head Coach Lisa Pawlik said.
Penn beat Lake Central, 25-22, 21-25, 15-9 in the Championship match.
In Pool Play, Penn lost to Hamilton Southeastern, 25-22, 21-25, 12-15; Penn beat Bishop Noll, 25-19, 25-7; Penn beat Fort Wayne Carroll, 25-23, 25-16.
Penn Stat leaders for the tournament:
Maria Schwindaman: 25 kills, 3 aces
Bella Phillips: 19 kills
Ally Hickey: 28 kills, 41 assists, 16 digs
Alyssa Torres: 15 kills, 10 blocks
Molly Pooler: 10 kills
Amari Torain: 16 kills
Addy Kois: 51 assists, 6 aces
Emma Hickey: 43 digs
Sophia Cruz: 16 digs
Kylee Hixenbaugh: 8 digs