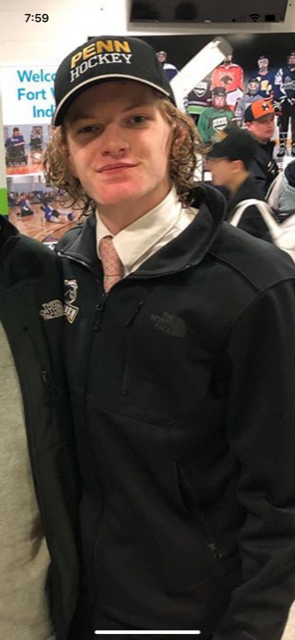 Nolan Strefling plays hockey for the Penn Kingsmen.
How many years have you played hockey?: I have been playing hockey for years, Since I was 3 years old.
What do you think a team is?: I think a team is a group of people that work together or a group to achieve a goal.
What position do you play?: I play left wing.
What are your hockey plans after high school?: I would hope to keep on playing and I´ll just see how long I can play.
Do you have any pre-game rituals?: Stretch, get dressed, pray and stretch on the ice.
What do you think it takes to win?: Team work and communication.
What is your favorite part of hockey?: The game.
Do you think hockey is for everyone?: I think anyone can play if they put in the hard work.
Advise you would give a younger you?: Put in the hard work at practice and it will make everything more fun.
What is winning to you? Winning to me is when you leave it all on the ice.