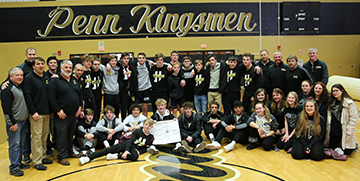 Penn High's Wrestling Team captured its ninth consecutive Regional Championship on Saturday, Feb. 2, 2019.
Penn placed first with 157 points. Wawasee placed second with 137.5 points, and Mishawaka finished third at 135.
A total of 12 Penn Wrestlers advance to the East Chicago Semi-State on Saturday, Feb. 9, 2019.
Jeffrey Harper led Penn's effort with a Regional Championship at 145.
Penn Semi-state qualifiers:
106: Ryan Purvis, third.
113: Brayden McMillen, fourth
120: Vince Sparrow, third
126: Logan Hill, third
132: Nate Hadary, second
138: Alex Slates, fourth
145: Jeffrey Harper, first
160: Michael Garcia, fourth
182: Noah Brown, second
195: Rockne Hurley, second
220: Adam Berta, second
285: Hezzy Devault, second