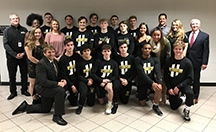 Penn overpowered South Bend Adams, 72-3, on Senior Night for the Kingsmen. Penn honored the program's 22 seniors and parents/guardians with a pre-meet ceremony on Wednesday, Jan. 16, 2019.
Kingsmen seniors include Adam Berta, Noah Brown, Otis Cassell, Garrett Caurro, Jensen Caurro, Amanda Feder, Kylei Gray, Autumn Hale, Jeffrey Harper, Aiesha Helepa, Andelisia Henry, Logan Hill, Rockne Hurley, Oyedamola Idowu, Jai Pant, Kole Reppert, Tyron Robinson, Alexander Searfoss, Nathan Stevenson, Matheson Stillwell, Morgan Trost and Eric Wood.
Penn winners in the meet against Adams were:
106: Ryan Purvis won by forfeit.
113: Brayden McMillen won by forfeit.
120: Joey Rutten won by forfeit.
126: Logan Hill won by forfeit.
132: Jensen Caurro won by pin in 1:42.
138: Jai Pant won by pin in :30.
145: Jeffrey Harper won by forfeit.
160: Otis Cassell won by pin in :29.
170: Nate Stevenson won 4-3.
182: Noah Brown won by pin in :51.
195: Rockne Hurley won by pin in 5:29.
220: Adam Berta won by in pin 1:05.
285: Hezzy Devault won by forfeit.