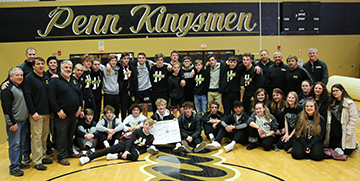 Penn's Rockne Hurley and Hezzy Devault posted victories in the opening round of the IHSAA Wrestling State Championships on Friday, Feb. 15, 2019.
Hurley (195) and Devault (285) advance to Quarterfinal action at Bankers Life Fieldhouse in Indianapolis on Saturday, Feb. 16. Action on Saturday starts at 9 a.m.
Hurley advanced with a stick in 5:37 against Chandler Chapman of Jay County. Hurley (33-2) will wrestle K.J. Roudebush (28-3) of Tipton in the quarterfinals.
Devault pinned Crae Kunkleman of Hamilton Southeastern in 3:03 to advance in 285. Devault (40-2) will wrestle Dorian Keys of Brownsburg (36-4) in the quarterfinals.
Jeffrey Harper of Penn (145) suffered a 7-2 defeat to Alex Mosconi of Indianapolis Cathedral in the opening round.