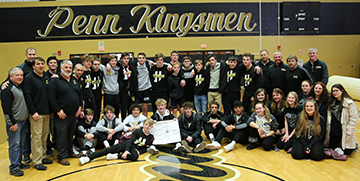 Penn's Rockne Hurley and Hezzy Devault each placed fifth in the state at the IHSAA high school wrestling State Championships on Saturday, Feb. 16, 2019.
Hurley took fifth in the 195-pound weight class. He defeated Cale Gray of Norwell 3-1 in the fifth-place match. Hurley defeated Charlie Agnew of Huntington North, 9-5 in consolation first-round action.
Hurley advanced to the quarterfinals with a pin in 5:37 against Chandler Chapman of Jay County, but lost to K.J. Roudebush of Tipton, 5-1.
Devault placed fifth at 285. He scored a 2-1 decision in the fifth-place match against Jermichael Watts of Indianapolis North Central. Devault defeated Muhammad Sidibe of Indianapolis Ben Davis, 1-0, in the consolation first round.
Devault pinned Crae Kunkleman of Hamilton Southeastern in 3:03 to advance to the quarterfinals, and was defeated 7-2 by Dorian Keys of Brownsburg.