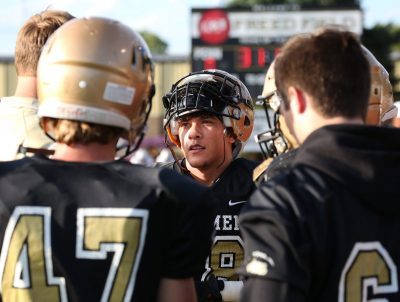 Being a varsity athlete in one sport is hard enough as is. But, for Michael Garcia, one sport isn't enough.
Garcia plays in three Varsity sports, three of the most challenging Varsity sports at that — football, wrestling, and rugby.
Listed at 5-foot-10, 175 pounds, Garcia is an impact player. He may not seem like an imposing figure for sports that require great physicality, but don't let the size fool you. Garcia makes up for that lack of size with speed and technique.
In addition to that, Garcia says that he, "feels I have an edge on most people" because he plays sports that are similar, especially football and rugby.
Outside of his physical gifts, Garcia leads his teams with innate leadership ability.
Wrestling teammate Kade Stone stated that, "(Garcia) gives a positive vibe to the team atmosphere" and that he, "always pushes his teammates."
That warrior mentality comes as no surprise when the humble Garcia's injury history was reported. Throughout the span of his high school career, he has broken his leg, broken his wrist, concussion, suffered a torn MCL, and a torn labrum, which he continues to play through for his senior football season.
His history of injuries does not discourage Garcia. Although it certainly makes things more challenging, it requires him to be more conscious of taking care of his body. He does so by, "constantly taking ice baths and heating all the time to stay healthy."
Garcia works hard to balance his sports and classwork and truly exemplifies a student-athlete. This is all possible by, "keeping the same routine every single day so I can get my stuff done," according to Garcia. His time management allows him to stay on top of his classwork and ultimately be successful in the classroom and in his respective sport.
Garcia said that sports have given him an opportunity to, "Make friends that you will hold onto for the rest of your life."
The humble Michael Garcia is not your typical high school athlete, but he unquestionably makes an impact on whatever surface he's competing on.