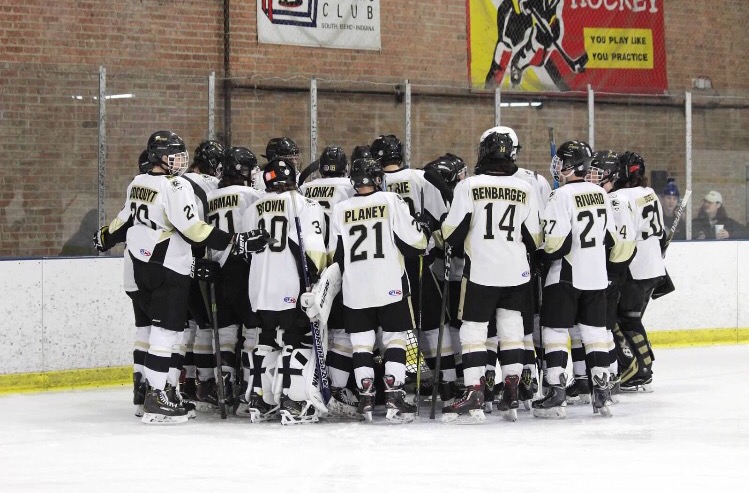 The Penn Kingsmen Hockey Team announced its 2019-20 schedule. The varsity team will play 40 regular-season games and will be playing in the Michiana City playoffs along with the six other teams in the league – South Bend Adams, Lakeshore, South Bend Riley, Southwest Michigan Blades, South Bend St. Joseph, and Valparaiso.
Depending on the Kingsmen ranking in the state at the end of the regular season, they will be participating in either the 1-A, 2-A, 3-A, or the 4-A state tournament.
The Kingsmen will kick off their season with their first game on Saturday, Oct. 5, against Lake Central at the Ice Box in South Bend. The Kingsmen play their longtime rival St. Joe three times in the regular season – Friday, Oct. 25, Friday, Dec. 6, and Saturday, Jan. 25. All these games will be played at the Ice Box. The game on Jan. 25, against St. Joe, is also senior night.
Penn plays at Notre Dame's Compton Family Ice Arena three times this season – Wednesday, Jan. 22,  vs Culver, and twice in the Hoosier Cup Tournament on Friday, Jan. 31, and Saturday, Feb. 1.
This season the Kingsmen boast six senior players Colson Ganser (Forward), Cade Hurley (Forward), Carson Plonka (Forward), Rickey Chapple (Defense), Jade Tapper (Defense), and Hayden Taylor (Forward). The Kingsmen also will have 13 returning varsity players this season. 
Last season, the Kingsmen made a run in the Michiana City playoffs up to the championship game, but fell just short, losing 2-1 against St. Joe. The Kingsmen were ranked fourth in the state last season and competed in the top tier 4-A state tournament, reaching the quarterfinals.
The Kingsmen will search for their first 4-A state championship this season.