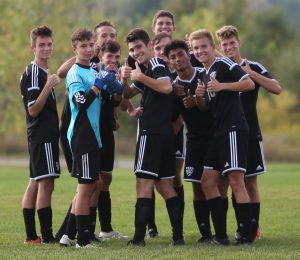 By DELAYNE SANCHEZ
The Penn High School Boys Soccer state run starts this week with the sectionals.
Penn will be playing at Tallman-Beyrer Field (School Field) in South Bend. The sectional includes the Kingsmen and host South Bend Adams, South Bend Riley, South Bend Clay, Mishawaka and La Porte.
State tournament action starts on Monday, Oct. 2, at 5 p.m when Riley takes on LaPorte, followed by Clay and Mishawaka.
Wednesday's first match will be a meeting between Monday's winners at 5 p.m. followed by Penn vs. Adams at 7 p.m.
The championship match is on Saturday at 2 p.m.
Session ticket prices are $6 and Season tickets are $10, there is no charge for pre-school children who will be seated with their adult.