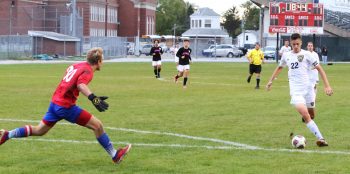 Penn's Kingsmen fought back from a 1-0 deficit to defeat South Bend Adams, 3-2, in the Class 3-A South Bend Sectional semifinal on Wednesday, Oct. 4.
Coach Josh Nakayama's Kingsmen, ranked No. 6 in the state, take a 14-1-2 record into the Sectional Championship match against South Bend Riley. The title game is set for 2 p.m. on Saturday at South Bend's Tallman/Beyrer Field in the School Field complex.
Penn unleashed a fast and furious attack after Adams took a 1-0 lead in the 32nd minute. Micah Craig got the Kingsmen on the board first with a free-kick goal in the 33rd minute.
Craig scored his second goal with a clinical finish from the corner off an assist from Sammy Atkins to put the Kingsmen up 2-1 over the Eagles in the 62nd minute.
Atkins blasted a laser off an assist from Micah Craig to put the Kingsmen up 3-1 over the Eagles in the 70th minute.