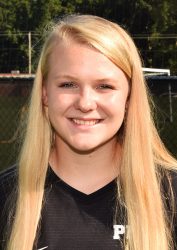 By Braden Pittman
Mallory Lehmann is one of the outstanding seniors on Penn's Girls Soccer team, but Lehmann has overcome adversity throughout her high school career.
Lehmann suffered a torn ACL at the beginning of the 2016 season during tryouts, and then she suffered a second torn ACL that Spring in the middle of her soccer season on her Indianapolis Fire team. She returned her Junior year at the beginning of the season.
Each ACL inury took nearly six months to heal and the process was long and vigorous. At the beginning of the healing process, Lehmann could hardly walk or lift her injured leg. Lehmann had to build her strength and the muscle that she had lost after surgery in order to be able to play.
After Lehmann had recovered from surgery she could start running and doing physical therapy to work towards a full recovery.
Lehmann was heartbroken that she couldn't be on the field with her team in the 2016 and 2017 seasons when the Kingsmen won state championships.
"It was really hard sometimes watching everyone else play while I sat there knowing that I couldn't do anything to change what had happened, it was bittersweet when we would win a big game because I always thought to myself that I wasn't a part of that win or wasn't able to contribute to it," Lehmann said.
Lehmann said her teammates were very encouraging during the rehab process.
"They would try and make me feel a part of the team, even though I couldn't play and they would include me in things and help me when I needed to carry something and help with the small things like that," Lehmann said. "They also would know just what to say if I was ever feeling sad."
Lehmann appreciates being back on the field.
"It was such a relief," Lehmann said. "I don't think I've ever missed anything more than I missed soccer during my recovery and getting back on the field was one of the best feelings."
Penn senior Lauren Hamilton said that the Kingsmen are happy to see Lehmann able to play.
"I had no idea the recovery would take so long, but when I heard how extensive the injury was," Hamilton said of Lehmann's injury. "I cried for hours. I felt terrible, and she did not deserve any of it."
The healing process was difficult for not only Lehmann but as well as her team. It was hard for the team to adapt to Lehmann not being there on the field with them during games.
"It was difficult to find someone to fill her position, because she was honestly such a solid player," Hamilton said. "She was so talented and still is. We had to make up for the fact that we didn't have her on the field. But we adapted eventually."
Lehmann is now healed and ready for this years season.
"I am really excited to see what our team can do and how we'll do," Lehmann said. "I think we have a great team this year that can win state again and we just need to prove it to everyone else."
The Kingsmen have a strong team this year and are looking forward to the remainder of this year's season.