Jankowski Leads Kingsmen Along Road to State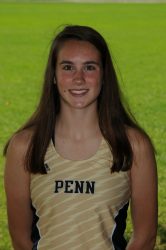 The Penn Kingsmen Girls Cross Country team seems to always be a force to be reckoned with and despite the departure of some very talented seniors last year, this year is no different.  
A large portion of that continued success can be attributed to senior runner Ellie Jankowski. Her outstanding performances and hard working example have helped the team get started on the right track.  
When talking about the goal of the team for the season Jankowski stated, "I think the main goal for our team is to make it to state and run well there."  
Jankowski understands this process as much as anyone as she has run at state for three Kingsmen teams, two of which placed in the top 10 at state.
This experience allows Jankowski to understand what it takes to make it to the State Finals and she knows what needs to get done in practice.  
As far as this year goes, the Kingsmen have continued to flourish.  They have placed top five in all of their meets and the team won both the NIC Stomp and the County Clash.
"I think we've done very well, and if we continue to perform how we have been we should be on track for the end of the season," Jankowski said.
This was clearly evidenced in the team's solid fourth-place performance at the Marion Invite, a very prestigious meet, featuring six teams ranked in the top 20 in the state.  Jankowski finished 14th out of about 200 runners, followed closely by teammate Brooke Neal who finished 15th.
This success is due to the tremendous amount of work that the team and Jankowski put in on a daily basis.  Jankowski runs about 30-35 miles in a week and many of these miles come through hard workouts.
Jankowski will be the first to admit how challenging it can be to keep going through the fatigue and pain but she uses positive thinking to help push through.  
"It is hard to want to keep going when I get tired.  But I think out how that training is going to help me in the long run to achieve my goals, and that keeps me motivated," Jankowski explains.
Junior teammate Brooke Neal says, "Ellie is a leader on the team who encourages us all to do our best."  Through her work ethic, Jankowski leads by example.  Her leadership and hard work are helping the team improve each and every time they race.
Based on how the season has started for the Kingsmen that hard work seems to be paying off, and all the indicators seem to be pointing in the right direction for Jankowski and the team as they travel the long, hard road back to the State Championship.