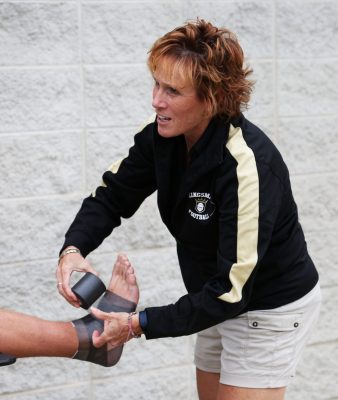 Trish Irvin of St. Joseph Health System is the head athletic trainer at Penn High School, but she's really an MVP as far as the coaches and student-athletes in 19 Kingsmen sports are concerned. She works very hard to keep Kingsmen student-athletes healthy and safe, with an emphasis on preventative techniques to help the Kingsmen avoid injury.
Irvin, who has been in charge of Penn's training room for 12 years, wanted to be a physical therapist when she was in high school. But she talked to her school guidance counselor and they recommended athletic training. She gave it some thought and decided that athletic training was what she wanted to do.
"I like to work with the athletes, because I too was a student-athlete in high school and I like to help them and see them get better," Irvin said.
Athletic training can be very challenging and stressful, with lengthy hours and more than 1,000 student-athletes to care for at Penn. Irvin said that she gets essential help from students.
"Student athletic trainers help a lot with doing other jobs that I can't do at certain times," Irvin said. "I love what I do, so I don't mind the stress, because I want to do my job and love helping people."
When asked for advice for students looking to go into the field she said that, "It is important to look into other medical professions, because things you learn there can help you in your athletic training career. The same goes for if you don't want to be an athletic trainer, but you want to go into a medical profession."
Trish Irvin is a big part of Penn Athletics. Keeping athletes safe is very important. And even though she doesn't get to stand in the spotlight with Kingsmen teams, is still very much appreciated by Kingsmen student-athletes and coaches