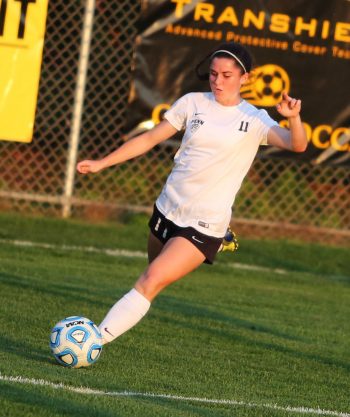 By DELAYNE SANCHEZ
Penn Girls Soccer phenom Kelsi Carrico, a sophomore, verbally committed to Purdue University.
Carrico is a starter on the Penn Girls Soccer Team that is ranked No. 1 in Indiana and No. 1 in the nation.
"I wanted to play a Big D-I school, so I could play at the highest level of college soccer," Carrico said of committing to Purdue.
Carrico said that going to a big school for college feels more right after coming to Penn. She wanted to be away from home to receive the full "college experience," but close enough so family and friends could come and support her at her games.
As for the Purdue Soccer program itself, Carrico stated she felt comfortable with the coaches and the teammates, which include some former high school and club teammates. Carrico played with current Purdue Boilermaker Alexis Marks on last season's Penn state championship team, and she played with Purdue's Ashley Witucki of Carmel on the Indiana Fire DA club team.  
Carrico joked that because Purdue doesn't have a men's soccer team, the women's soccer team doesn't have to worry about sharing facilities.
On the academic side, Carrico has decided that she wants to pursue becoming a vet, with Purdue having an excellent vet program, however "If I decide to change my mind in the following years, Purdue is such a great and big school that I have many other options to chose from."
She boasted saying she is honored to get the opportunity to play for Purdue leaving with this comment "Boiler up!"