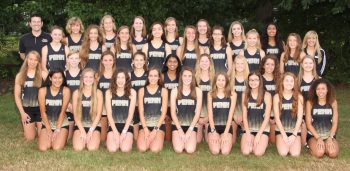 Penn's Girls Cross Country team earned a return trip to the State Championships as the Kingsmen placed second in the Fort Wayne Semi-state on Saturday, Oct. 21.
Coach Michael Clements' team finished with 131 points. Carroll of Fort Wayne won the team title with 77 points. The top six teams advance to the State Championships on Saturday, Oct. 28.
Lauren Frank led the Kingsmen on the 5K course at the IPFW Plex with a sixth-place finish in 19:01.25.
Dani Spring placed 11th overall with a time of 19:24.67.
Brooke Neal placed 25th in 19:57.05.
Riley Keppler turned in a time of 20:20.18 for 44th place.
Ellie Jankowski placed 45th in 20:25.15.