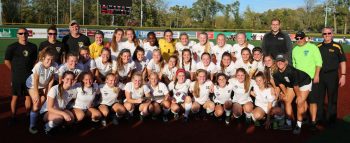 Lexi Scott's first goal of the season turned out to be the most important of the season so far for the Nation's No. 1 Girls Soccer Team, as it was the game-winner in a shootout to give the defending State Champion Penn Kingsmen a 2-1 (5-4 shootout) victory against Noblesville in the Kokomo Semi-State on Saturday, Oct. 21.
Penn (22-0-1) advances to its third consecutive State Championship Game to take on Guerin Catholic (16-1-1). The game will either be on Friday, Oct. 27, or Saturday, Oct. 28, at either Butler or IUPUI. The IHSAA will announce time and location on Sunday. Noblesville, ranked No. 5 in Indiana and No. 35 in the Nation, is done at 14-3-3.
Scott, a senior defender, emerged as a clutch penalty-kick shooter during tryouts for the shootout rotation.
"Lexi has a great shot and she can finish," Penn Coach Jeff Hart said. "The moment was not too big for her.
"We've been working on penalty kicks for weeks," Hart said. "We whittled it down to 10 or 11 kids. We knew for the last two weeks Lexi was going to be one of the five kids. In the last week, we told her that she would be the fifth, and that's because of her composure. She's so calm on the ball, and you never know where the ball is going. When you're the fifth kicker, it's usually high pressure, high anxiety and you saw that she stepped up confident and finished it. I'm very proud of her."
Scott was totally focused on the PK despite shooting into a backdrop of a boisterous Noblesville student section.
"We've been practicing all week for this," Scott said. "Obviously, we never wanted it to get down to this (a shootout). I just treated it like another practice. I went to the same corner I always go it. It was just so much fun.
"It was a very different moment for me (to be a goal-scorer). I was excited, and I knew I had to live up to the moment. Everybody else who was shooting was a midfielder or a forward, but I knew what I had to do. I was awesome to be in that place. We've been practicing PK's, and the coaches realized that I could handle pressure and I could finish."
Hart thought that Penn's composure was the difference-maker.
"Our kids have been here before," Hart said. "We've been in tough battles before. We've played Noblesville before, now four times in the last 14 months, and basically, it's been a one-goal game each time, a tight, tight game. We talked about it at halftime, that Noblesville will never quit against us, and we will have to keep our composure. I'm just so proud of this team and the way our kids battled."
Hart also appreciated the accomplishments of his student-athletes.
"I think we'll wait another week to let it sink in how well this program has done," Hart said. "The accomplishments on the field are amazing, and the grade-point average is above 3.7 for the entire program. As coaches, we could not be more fortunate to coach this group of kids."

PENN 2, Noblesville 1 (Penn wins shootout 5-4)
P – Maya Lacognato (Kristina Lynch assist) 26th minute.
N – Jessica Hudnall (free kick), 43rd minute.
SHOOTOUT
N – Jessica Hudnall.
P – Maya Lacognato.
N – Kelsey Hughes.
P – Brooke VanDyck.
N – Jewell Hensley.
P – Molly McLaughlin.
N – Amber Wolf.
P – Kristina Lynch.
P – Lexi Scott.