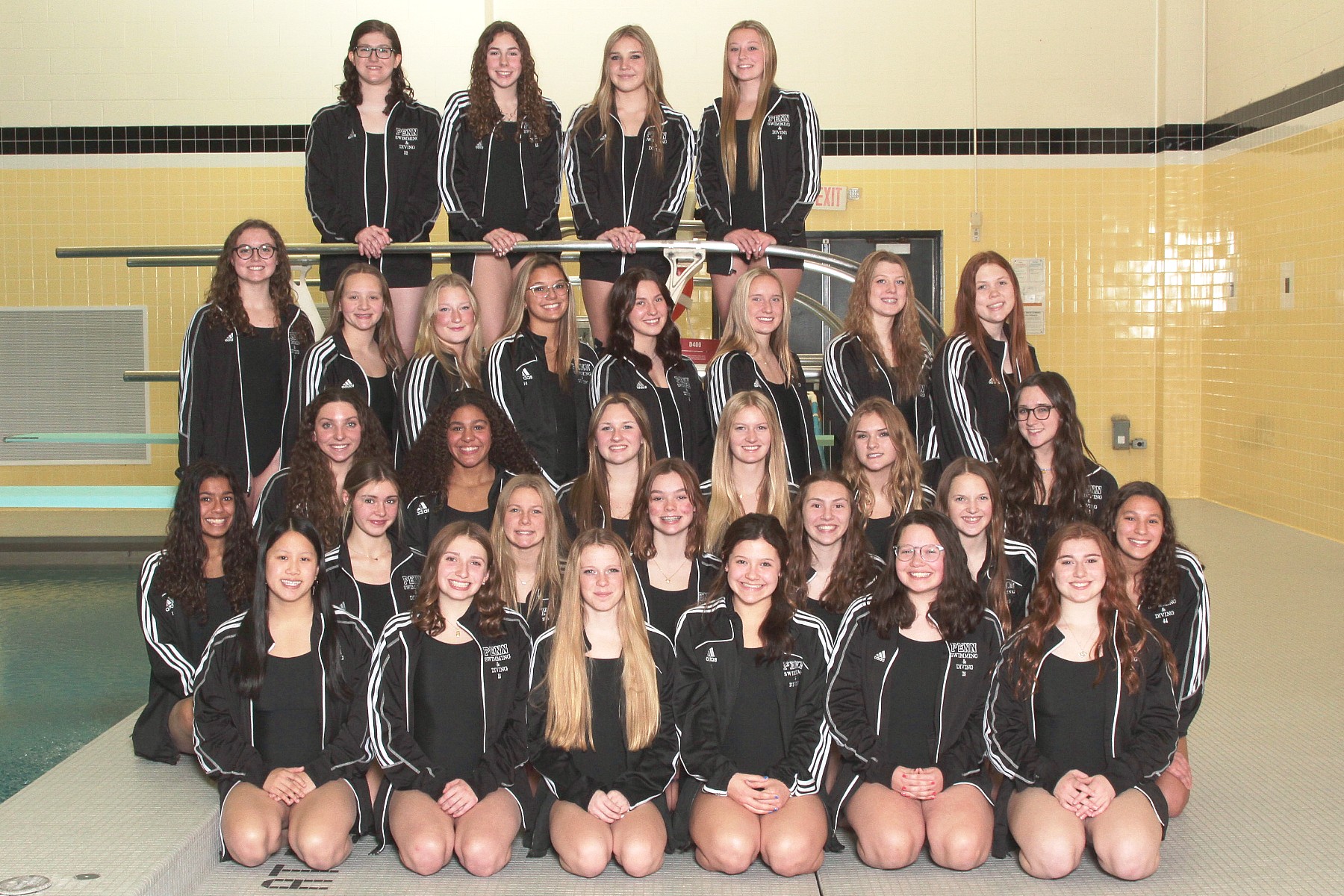 Penn Girls Swim and Dive finished third at the IHSAA State Finals at IUPUI on Feb. 11, 2023.
The Lady Kingsmen finished third with a score of 156, behind first-place Carmel (498) and second-place Fishers (233). Hamilton Southeastern finished fourth with a final score of 148, followed by Zionsville who finished with 141. 
Penn placed second in the 200 Yard Medley Relay. Avery Woods (Jr.), Anika Guenther (So.), Alayna Riggin (Fr.), and Lily Christianson (Jr.) swam together for an impressive relay time of 1:42.18 minutes, to earn 34 points toward their overall team score.
The Lady Kingsmen didn't stop at the 200 Yard Medley as they also placed second in the 200 Yard Freestyle. Guenther, Riggins, Jordan Koszyk (Sr.), and Christianson swam a time of 1:35.58 minutes. 
NIC MVP, Lily Christianson placed second in the 50 Yard Freestyle Event. With a time of 22.33 seconds, she recorded the second-fastest time in the event in IHSAA history. Carmel's Alexandra Shackell (So.) finished ahead of Christianson with a time of 22.05 seconds for the record. 
Christianson continued her dominance as she won the 100 Yard Freestyle with a time of 49.25 seconds. As a junior, this is Christianson's third IHSAA State Championship. 
Penn's Riggins placed ninth in the 50 Yard Freestyle and was the fastest freshman in that event with a time of 23.83 seconds. Not stopping there, Riggins continued her day as she finished sixth overall in the 100 Yard Butterfly with a time of 55.41 seconds. 
Guenther placed tenth in 100 Yard Breaststroke with a time of 1:04.56 minutes. With the conclusion of the State Finals, Guenther reflected on the moment and experience as a whole.
"IUPUI has a huge pool and that is where all of the huge meets take place. The lights are bright and that is where the season pays off. When you get there, you realize you're not swimming for yourself, you're swimming for your team and that's a great honor."
 After a long season, the Pennant got a chance to catch up with swimmers and divers to understand how the team was able to pursue a top-three finish. 
"We knew that at the beginning we would be a good team. However, once when sectionals hit the intensity ramped up. We knew that Lily would be one of the top swimmers and we just trusted one another. Swimming is a mentally challenging sport, but when we have the team and the support, it helps us through the challenging days," Guenther said. 
Penn Diver, Devyn Keller (So.) reflected on the work the team put in as a contribution to the team's success. 
"I know it's a Penn thing to "work hard". However, at Penn, we work our tails off the most in the area. We have the talent and we know how to work hard to maximize our talent. Sometimes, we would be lying on the floor and we would be so tired. Empathizing hard work throughout the season allowed us to progress quickly."
Distance Swimmer Emily Eby praised the teamwork and unity of the team. 
"Out of all of the teams I've been on, this team is the most united and supportive I've ever seen. Every success we celebrate together and every loss just brings us together and motivates us to come back stronger. I think without that unity we wouldn't have been nearly as successful."
Woods also weighed in on the team's success.
"The aspects of the team that allowed us to have a 3rd place finish at state is how close everyone is, and the team's positivity. Not everything is always going to go according to plan but, the girls are always there for you to fall back on and look to for support. "
Although the Lady Kingsmen finished as the third-best team in the state, their ride was full of ups and downs. Penn had an injury problem that they had to overcome throughout the season. 
"Injuries. Injuries. Injuries. All of the divers are very injury prone and we have gotten hurt several times. It doesn't help that none of us have training specifically diving before high school, we lack experience. And there is a lot of safety equipment that we lack. We simply don't get the funds we need for some of the equipment," Keller said. 
Eby explained how specifically "injuries" to the immune system affected them. 
"One of the hardest challenges for us as a team this year was dealing with sickness. There was a period in the season when almost everyone on the team was sick and several people were staying home trying to get better. Trying to compete while we were so far from our full strength was difficult."
Even though injuries were a hurdle for the team, the Lady Kingsmen were able to swim past the hurdle and finish top three in the state. After finishing the season in the top three, the Lady Kingsmen are already looking ahead to what the future holds for the program. 
"We have some very talented freshmen coming in, while many of our talented swimmers are coming back. We see ourselves competing for second place in the state," Guenther said. 
Eby had similar remarks as Guenther. 
"We can only get better. Most everyone does club swimming outside of high school season and I can't wait to see how everyone will improve over the next year. It's always really exciting to come back and see how much both you and your teammates have improved."
Keller also believes that they can place second. She says she was disappointed with how her season ended and is looking to how she can progress for next season. 
"I think next year we will go undefeated again and will be top three in the state again. If I work hard over the summer and I'm at where my coach thinks I'll be, I believe that I will qualify for state as long as I continue to progress."
Woods sees a bright future for the team as she heads into her senior season.
"Looking ahead to next year I see myself continuing to better my times and possibly committing to a college.  As for the team, we have a few incoming freshmen that are really going to be a big asset to the team. I believe that next year we can get 2nd at state as a team."
The Lady Kingsmen exceeded expectations that many placed upon them before the start of the season. Next year, the Lady Kingsmen look to challenge Carmel and prove to the rest of Indiana that they are a disciplined team, one that shouldn't be taken lightly.