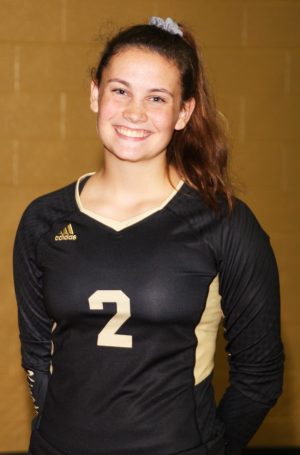 Senior Ally Hickey is a 5-foot-7 outside hitter for the Penn Volleyball Team. She played a key role last season in helping the Kingsmen win Sectional and Regional Championships. Hickey, a Lewis University commit, is a member of Penn's Student-Athlete Leadership Council. She just returned to action after suffering a shoulder injury.
What are the details of your injury? I tore the bicep and the labrum in my right shoulder in February and played on it for five months, then had surgery done in July.
 How are you going to make a difference on the team now that you're back?: I want to be a vocal leader and the person that pushes their teammates to be their very best.
 Are you excited for Lewis?:  I am super excited for Lewis.
 What are you most excited about?: I think I'm most excited about meeting new people and definitely the new level of competition.
How has Coach Pawlik influenced you over the past two years?: Over the past two years, Coach Pawlik has influenced me by being closer with my teammates and implementing the sisterhood and the common goal of winning state.
What's your favorite cartoon?: My favorite cartoon is "Teen Titans Go".
What are you planning on majoring in?: I'm planning on majoring in accounting.
What's your favorite thing about volleyball?: My favorite thing about volleyball is the relationships that you make with each team that you are part of.
Who has been the most influential teammate that you've ever played with?: The most influential teammate that I've played with would be Bella Ravotto. She has taught me to set goals and always find a way to accomplish them and that you don't have to be super tall to be able to play outside hitter at the college level.