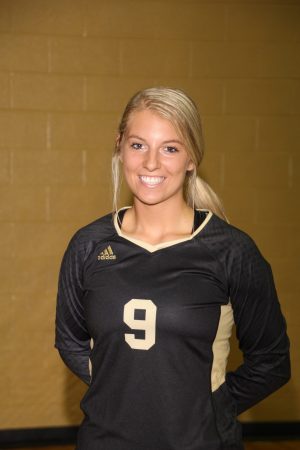 Whitney Zarazee is a 5-foot-6 right-side hitter/defensive specialist for the Penn Volleyball Team. Here's a Q&A with the Kingsmen Junior by Wiley Payne.
How long have you been playing volleyball?: I have been playing volleyball for really my entire life, ever since I was a little girl, and was old enough to hold a volleyball. It was always in my hands. My older cousins were big into volleyball, and so I spent many days watching them and hoping to be like them.
What kind of music are you listening to before games?: I listen to all kinds of music depending on the day, but mainly I am all for country and good throwbacks. However, A song that I listen to and play before every single game is "Champion" by Carrie Underwood. That's because this song is so powerful and the words to the song really show my mentality and my main goal.
What advice would you give to a freshman player?: The advice I would give to a freshman that I wish I would've known as a freshman is to play for the name on the jersey and for the people around you. I feel so many people think about, 'Oh, I have to get the most points,' or, 'Oh, I have to be the best player on the team.'  As I have gotten older, I realize if you do your job and give back to the people you play with on and off the court and give your all, it will pay off in the end. Just stay persistent and never be satisfied. Always make the people around you better.
What are your goals for this season?: My goals for this season is to definitely without a doubt win a state championship. With that being said, I think it's important to set a strong competitive culture and as a team find that desire to knock out every opponent we face.
What position do you play?: I play the right side and am a defensive specialist, which allows me to be able to contribute to various options.
Other then playing for Penn, do you play for any travel teams?: Besides Penn, I play for NIVA (Northern Indiana Volleyball Association), which is a travel organization, and have had such an amazing experience and have grown so much mentally and physically.
Do you have a favorite memory from the time that you have played Penn volleyball?: Volleyball has brought millions of amazing memories in my life and brought life-long friendships that I will forever be grateful for, but if I had to choose a favorite memory it would be winning the regional last year at LaPorte and just knowing that pure joy and hard work had paid off really just gives me goosebumps and reminds me how fulfilling the game of volleyball is.
Do you have a favorite team to play against?: My favorite team to play against is Elkhart Memorial, due to the competitive and positive atmosphere they always bring. I have a lot of really close friends that I have grown up with and played travel with, so being able to face them on a different side of the net is such a neat and amazing thing to experience for sure.
What is the strangest thing to ever happen in a match?: The weirdest thing was a serve hitting me straight in the face and it somehow got up and ending up scoring a point.