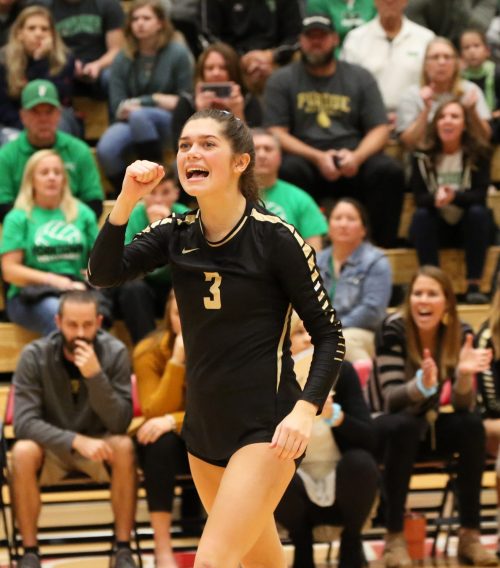 Volleyball is a sport that requires great teamwork and team chemistry. All players on the court have to know their responsibilities and know what everybody else is capable of accomplishing.
For Senior Kylee Hixenbaugh, her job is being the "Quarterback" of the Kingsmen.
Hixenbaugh brings a variety different skills to the table. She brings a great court sense and strives to be better everyday in practice or in games.  She also is one of the main leaders of the team.
Head Coach Lisa Pawlik is now in her second season coaching Hixenbaugh, and one characteristic she has seen in Hixenbaugh that stands out the most is her leadership.
"(Hixenbaugh) is very coachable and will not accept that her good is good enough," Pawlik said. "She wants to be great. She pushes others to be their best and she is fun to watch. You think a ball might be down and she comes out of nowhere to save it. She uses her senior leadership but keeps the team as one without grade levels."
Pawlik added that Hixenbaugh leads by example and has the trust and respect of her teammates.
Hixenbaugh embraces the challenge of leadership. It's a leadership that has Penn eager to begin its quest for a State Championship starting with the Sectional at Goshen on Thursday, Oct. 17, 2019.
"Being a senior leader is very important to the team," Hixenbaugh said. "Some of my responsibilities as a senior are to make sure everyone is doing their job and hold my teammates accountable."
Penn's program helped Hixenbaugh get her start in Volleyball.
In the summer, Penn volleyball conducts camps for elementary and middle school students. As a young girl, Hixenbaugh attended these camps and fell in love with the game. She has continued to play ever since. What makes the game so much fun for her is she gets to spend time with her friends everyday at practice and games.
From being a freshman starting at the bottom of the food chain to being a senior leader, there are a lot of changes that you go through the course of your career. Hixenbaugh has played for two different head coaches and was part of a Final Four team in the IHSAA tournament last season. But she hasn't just changed as a player, she has changed as a person.
"The Penn volleyball program has helped me in so many ways over the past four years," Hixenbaugh said. "It has not only made be a better player, but also a better person."
Just like every sport, volleyball trains in the offseason, whether it's before school, after school, or in the summer. Whether it's in the weight room or on the court, it is a grind to get better for the season.
Hixenbaugh gave the details of what the schedule is like for the offseason.
"During the offseason, we practice before school and train five days a week in the summer. The main focus in the offseason is to build the culture of the team and develop roles."
Now that the state tournament is approaching, Hixenbaugh just needs to keep bringing her consistency and her leadership to the table for her and the Kingsmen to be successful.