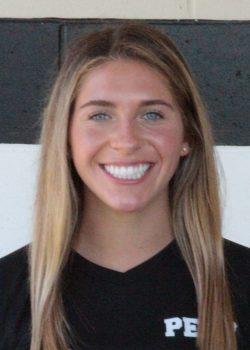 Athlete name: Sophia Lenfestey
Sport: Girls Soccer
Graduation year: 2021
Position: Forward
Height: 5-4
Weight: 130
Combine results: 40-yard dash: 5.58 seconds, Bench: 110 pounds, Front Squat: 135 pounds, Vertical: 18 inches, Clean: 105 pounds, Broad Jump: 5-6
Statistics: Scored six goals in 17 games in 2019.
Honors/accomplishments (athletic and academic): Academic All-State, IHSAA Sportsmanship Award, National Honor Society.
Head coach/email: Jeff Hart – jhart@phm.k12.in.us
Coach's quote:"Sophia began her career in our program as a defender, but became a huge scoring threat for us this past season with 6 varsity goals. She is a fearless, aggressive forward now and is always looking to score. She showed up in big games for us with goals on the road vs. state powers Marian and Warsaw.  Sophia has a great work ethic and competitive spirit, along with a natural leadership style that will help us greatly as we all look forward to her senior season." – Jeff Hart.