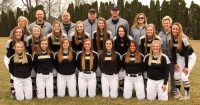 The Penn Softball team took on Fort Wayne Carroll on Friday, April 13, 2018, under the lights. The Kingsmen defeated the Carroll Chargers with a final score of 14-1.
Freshman Addy Kois started for the Kingsmen and ended up with nine strikeouts.
Leading the Gold-and-Black attack were senior leader Sydney Middleton and Tori Budzinski, both going 2-for-2.
The biggest highlight for the Kingsmen was shortstop Brenna Brown hitting a grand-slam home run.