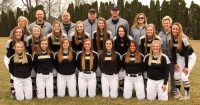 The Penn Varsity Softball team made their 2018 season debut on Tuesday April 14, with a 21-1 victory against host South Bend Riley.
Anna Gustafson started in the circle and struck out six.
Freshman Addy Kois made her high school debut, striking out six in two innings of work.
Tori Budzinski who started her season with a three-run home run. She finished 3-for-4 hitting.
Brenna Brown and Ryleigh Langwell were each 2-for-3.