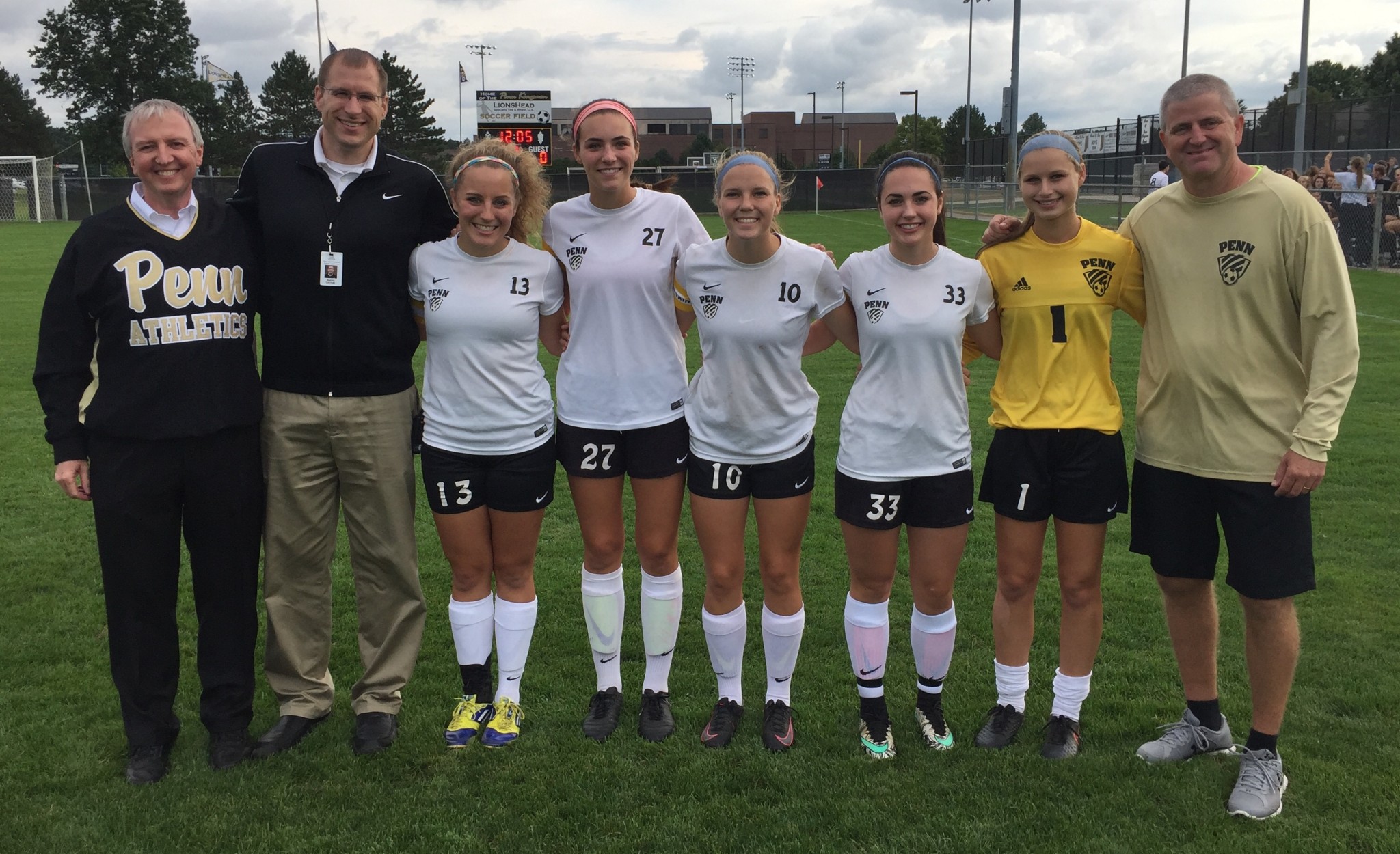 Penn High's No. 1-ranked Girls Soccer team made senior night a success as the Kingsmen defeated Glenn, 6-0, on Thursday, Sept. 29.
Brooke VanDyck earned an assist on Penn's sixth goal, giving her 14 assists for the season, which ties the school record. VanDyck also scored a goal.
Kristina Lynch scored a goal, which gives the Florida State recruit 26 goals this season. The school record for most goals in a season is 28.
Tori Varga contributed one goal and two assists.
Sommer Domal, Lexi Marks and Kaitlin Paul combined for the shutout in goal.
Penn's victory finished off a perfect Northern Indiana Conference season with a 10-0 record. The No. 1-ranked Kingsmen are 15-0-1.
Penn also posted its second consecutive undefeated regular season. The Kingsmen are 36-1-3 combined for the 2015 and 2016 seasons.
Penn Girls Soccer coach Jeff Hart appreciated the contributions of his seniors, Nicole Knudtson, Tori Varga, Lexi Marks, Savannah Day and Sommer Domal.
"I am very proud of the leadership and the legacy these 5 seniors will leave when our season is complete," Hart said. "They have been wonderful examples of putting the team first, working hard and patiently towards a long-term goal and being a good teammate. Going unbeaten in consecutive regular seasons, with our tough out of conference schedule, is quite an accomplishment for the girls. We now begin preparing for the one game at a time post-season."
P – Molly McLaughlin (assisted by Tori Varga)
P – Savannah Day (Kristina Lynch)
P – Brooke

VanDyck

(

Varga

)
P –

Varga

(Nicole

Knudtson
Shutout – Sommer Domal , Lexi Marks, Kaitlin Paul (1 save)
Records: Penn 15-0-1 (10-0

NIC

– League Champs)