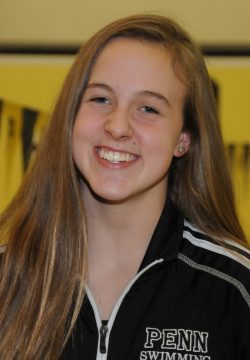 Senior Madi Bottorff will be continuing her academic and athletic career at University of Missouri-St. Louis. 
"I chose UMSL because I felt like I belonged there," Bottorff said. "The swimmers and the coaches made me feel like I was a part of the team from the moment I visited. I felt like it was the perfect fit for me both academically and athletically. And I felt like I would be happy there." 
Bottorff specializes in 100-yard freestyle (53.50) and the 50-yard freestyle (24.45). Bottorff received two scholastic All-American awards for 200 free relay and 200 medley relay. All-Northern Indiana Conference in all three relays, and the 50 and 100 free many times throughout high school, Bottorff has also gone to state every year of her high school career. 
"The training I received from the Penn swim program helped me grow to become the swimmer I am today and ultimately helped me prepare for collegiate swimming," Bottorff said. "I wouldn't be where I am today without being pushed to do my best at every practice and every meet, it was physically and mentally challenging but the work paid off."