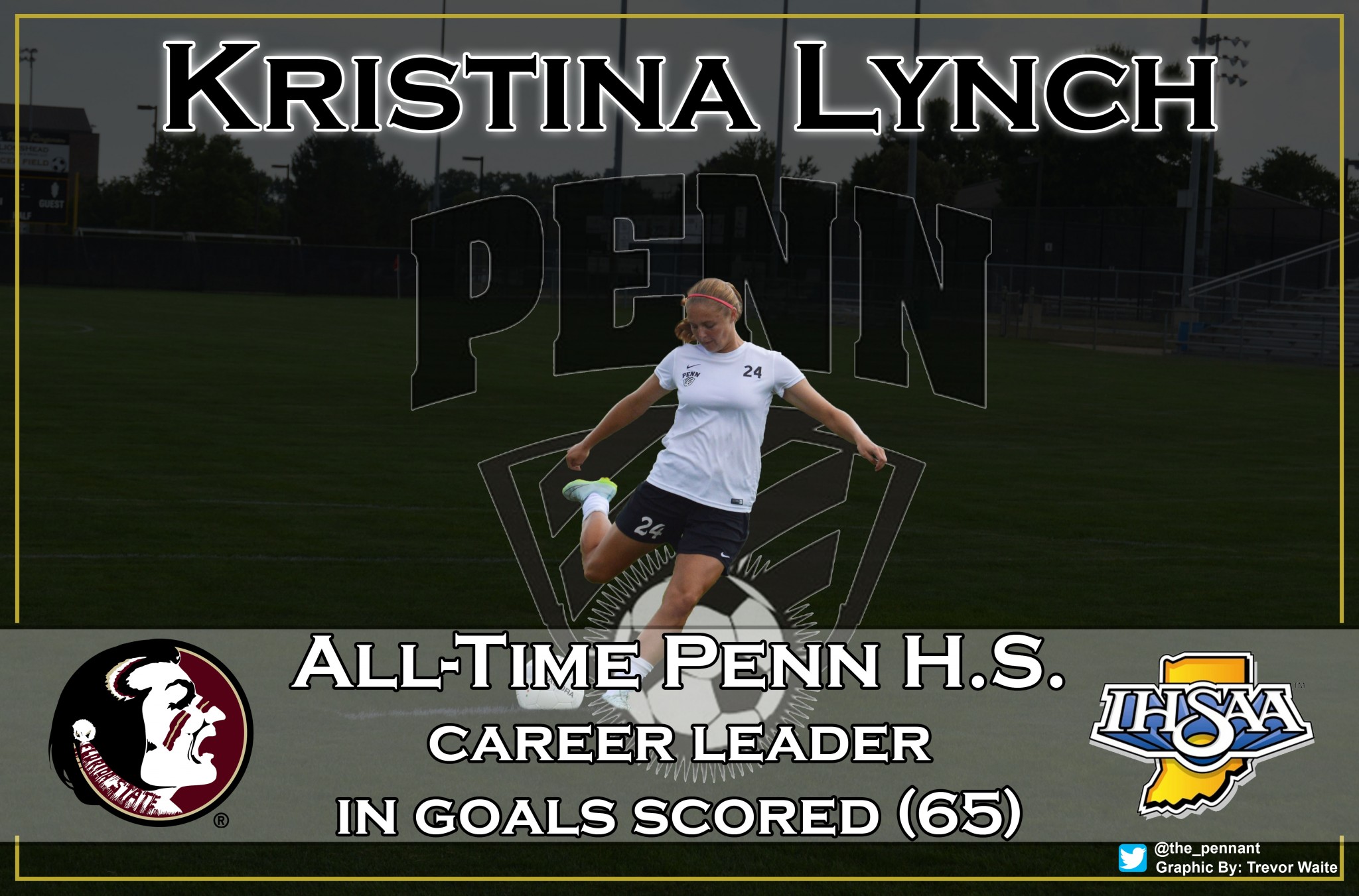 Florida State recruit Kristina Lynch scored two goals to become the Penn Girls Soccer career scoring leader, and helped the No. 1-ranked Kingsmen overpower South Bend Riley, 9-0, on Thursday, Sept. 15.
Lynch, a junior, has 65 goals. She topped the previous standard of 64 goals, set by Katie Hojara (2011).
Brooke VanDyck recorded her 11th assist of the season, three shy of the school record.
Penn, 10-0-1, is No. 12 in the nation in the TopDrawer Soccer rankings, and No. 27 in the USA Today national rankings.
"This was a great win
tonight
for the program," Penn coach Jeff Hart said. "Kristina breaking the school's career scoring record midway through her junior year is a testament to the elite skill but also elite work ethic that she possesses. Four freshmen made their varsity debut, which is always a positive. We're excited for the challenges we"ll face this weekend in the Canterbury Invite."
Here is an interview with Kristina Lynch about becoming the Penn Girls Soccer all-time scoring leader:
Here is an interview with Penn coach Jeff Hart:
Penn plays Leo and Canterbury on Saturday in the Canterbury Invitational.
P – 1st – Nicole Knudtson (assisted by Kristina Lynch)
P – 2nd – Molly McLaughlin (Maya Lacognato)
P – 6th – Kristina Lynch (Knudtson)
P – 8th – Lacognato (Brooke VanDyck)
P – 10th – Lynch (unassisted)
P – 13th – Haylee Shahan (Lauren Cernak)
P – 31st – Brooke Fuller (Erin Ludwig)
P – 59th – Riley Chapla (McKenzie Blankenbaker)
P – 68th – Grace Szklarek (unassisted)
Records: Penn 10-0-1 (6-0 NIC)