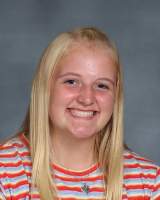 Avarie Pratt will be attending Westminster College in New Wilmington, Pennsylvania to further her academic and athletic career.
Pratt was very involved at Penn with wrestling, rugby and Powder Puff in addition to lacrosse.
"Westminster was everything I was looking for in a school," Pratt said. "The campus is beautiful and the people there are super kind. Everyone holds the door for everyone even if they're a football field away."
Pratt will be majoring in business at Westminster. She says that Penn lacrosse has taught her how to be a leader and to push herself to be a better player and teammate. Coach Eutsey had told her girls to never say "I can't" and Pratt says that has reflected directly on her academics and work ethic.
Coach Eutsey has nothing but great things to say about Avarie. She says, "Over the last 4 years, Avarie has worked really hard at becoming the best defender she can be. She has put in work outside of lacrosse and lacrosse season working on her defensive skills. I have seen tremendous growth in Avarie that last 4 years. Avarie is also a great leader for her teammates. Always cheering them on, giving them advice and helping them in drills."