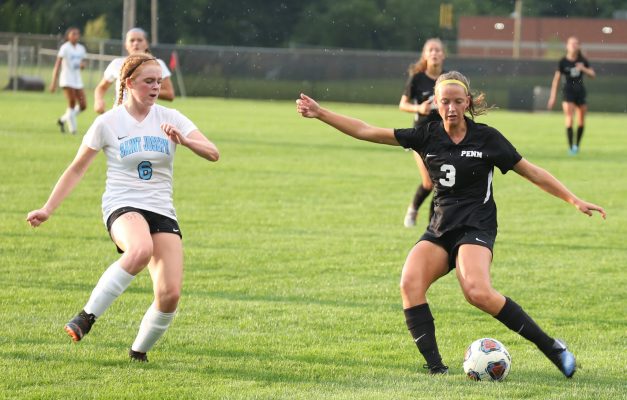 On Saturday, Sept. 1, Penn Junior Grace Szklarek helped the two-time defending State Champion Kingsmen Girls Soccer team battle against state powers Carmel and Indianapolis Brebeuf.
On Tuesday, Szklarek teed off at Knollwood Country Club in a Girls Golf match against South Bend St. Joseph and Marian.
The next day, Szklarek was lining up on Penn's soccer field for the Kingsmen to take on St. Joseph.
On Friday, it was back to the golf course for a match in LaPorte.
Saturday, Sept. 8, was golf again, where Szklarek won Northern Indiana Conference medalist honors in a playoff.
In a span of eight days, Szklarek helped Penn Girls Soccer and Girls Golf excel against five Top 10 teams, and won a conference championship.
The only setback for Szklarek was on Saturday, Sept. 8, when she wanted to jump in the car after the NIC Golf Tournament and drive three hours to Toledo to help Penn Girls Soccer take on St. Ursula, but was told she wouldn't make it to the game in time to play.
Szklarek competes for the Penn girls soccer teams as well as the girls golf team that both compete in the fall.
Szklarek sacrifices her free time, job opportunities and energy to compete in both soccer and golf and she not only competes, she excels. She has captivated college scouts and is being recruited to play both soccer and golf in college.
"I play both sports because I love both of them," Szklarek said. "They just happen to be in the same season. I have to miss a lot of soccer games and golf matches/practices, but I make it to everything I can and do my school work in my free time."
Soccer and golf are two polar opposites, which shows how well rounded and uniquely gifted Szklarek is.
"Her athletic ability has given her this unique opportunity to play two sports at the same time," Penn Girls Soccer Head Coach and Kingsmen Athletic Director Jeff Hart said of Szklarek.  "Her positive attitude, work ethic, competitive spirit and great sense of responsibility for being a good teammate will help her become successful in whatever path she chooses in the future."
Szklarek's work ethic is without a doubt something special and second to none.
Right when schools gets out, she heads to the soccer fields for soccer practice and to kick it with her teammates, then in the evening she drives to the range to hit golf balls until there's not enough sunlight to see, then she heads home to work on her homework late in the night.
Szklarek's discipline makes her stand out from others. Her ability to balance to workload from school, soccer, and golf is something to admire!
Unsure what sport she wants to carry on with throughout college, Szklarek is getting plenty of offers in each sport.