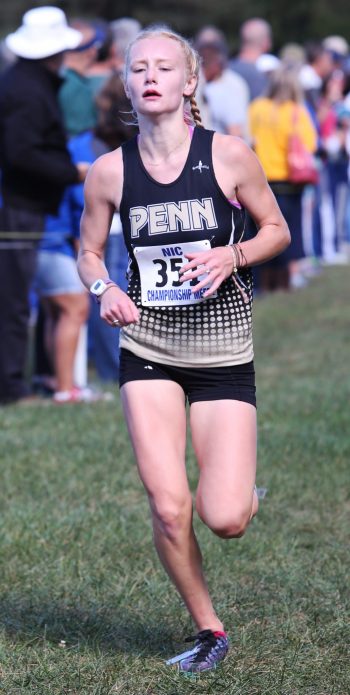 By ANA KRUGGEL
Penn Senior Danielle Spring went into the Girls Cross Country Regional race on Saturday, Oct. 14, with the hope of breaking her 19:11 time and getting her reasonable goal of 19:00.
She left with a Regional Championship.
Spring ran the 5K course at Ox Bow Park in 18:53.8, taking first place with a dramatic lunge at the finish line to beat Morgan Dyer from Elkhart Memorial. Spring's Regional Championship effort helped Penn win the team title and advance to the Semi-state.
Although Spring surprised herself with her first major championship, her coach was not surprised.
"While the crowd, and Dani herself, were certainly surprised by her win, I was not," Penn Girls Cross Country coach Michael Clements said. "I have had a lot of belief in Dani for the three years I've coached her and this year has been a breakout year for her.  I think after Saturday's win, she is starting to realize what I've been telling her about how good she can be. 
"As a runner, Dani has a very high ceiling for what she can accomplish," Clements said, "so it was extremely gratifying to see that the plan we've developed for her and the hard work she has put in during Cross Country finally came to fruition."
Spring said that to achieve her original goal of a time of 19:00, she needed to stay in the front pack.
"The whole race I was able to stay up in that pack of four," Spring said of staying up with the top runners. "Then, at the last kilometer, the front runner started to push ahead, so I went with her. On the final stretch, she got ahead of me. I knew that I was so close to first, so I found the energy in me to sprint past her in the last few seconds."
"I was so happy, I couldn't stop smiling," Spring said.
As the Semi-state and State inch closer, Spring plans to continue what she has done all season to prepare herself, run everyday. She is going into these next few races with a positive mindset.
"My success last week doesn't guarantee anything for the future," Spring said. "I know the last two races are going to be harder than any of the other races I've run this year. There's going to be great competition, and I'll be happy with whatever I can accomplish at semi-state and state."