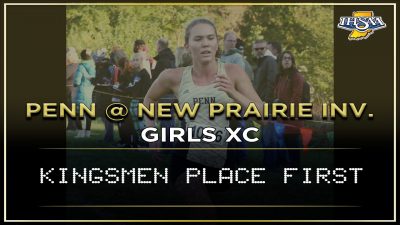 Penn Girls Cross Country turned in an exceptional to win the power-packed New Prairie Invitational on Saturday, Sept. 19, 2020.
Penn won its first New Prairie title since 2016, and fourth in the past eight seasons.
The Kingsmen placed first with a team score of 72. Lake Central placed second with a score of 90, and Chesterton scored 91 to place third.
Penn: 9. Nicole Marshall 19:43.1, 11. Morgan Gannon 19:44.5, 12. Julie Smith 19:44.7, 19. Mary Eubank 20:01.6, 21. Ava Gillis 20:03.6, 27. Ellie Stabnik 20:11.3, 37. NIkki Jerzak 20:32.6.
"Incredibly proud of the Lady Kingsmen today!," Penn Girls Cross County Coach Michael Clements said. "Winning the New Prairie Invite is a major milestone.
"I continue to be amazed by the toughness our team displays every race day," Clements said. "We have put together a very heavy two weeks of training, and for them to go out and compete fearlessly against the best teams in northwest Indiana tells me this is a special group.
"Hats off to two ranked teams in Chesterton & Lake Central for pushing us today, but the power of our pack shined through being able to get our first five scorers in under 20:03, while Ellie & Nikki did yeoman's work by adding significant points to the other team's scores.  This should set us up well to see what the ladies can accomplish the rest of the regular season and in the state tournament once the calendar flips to October."