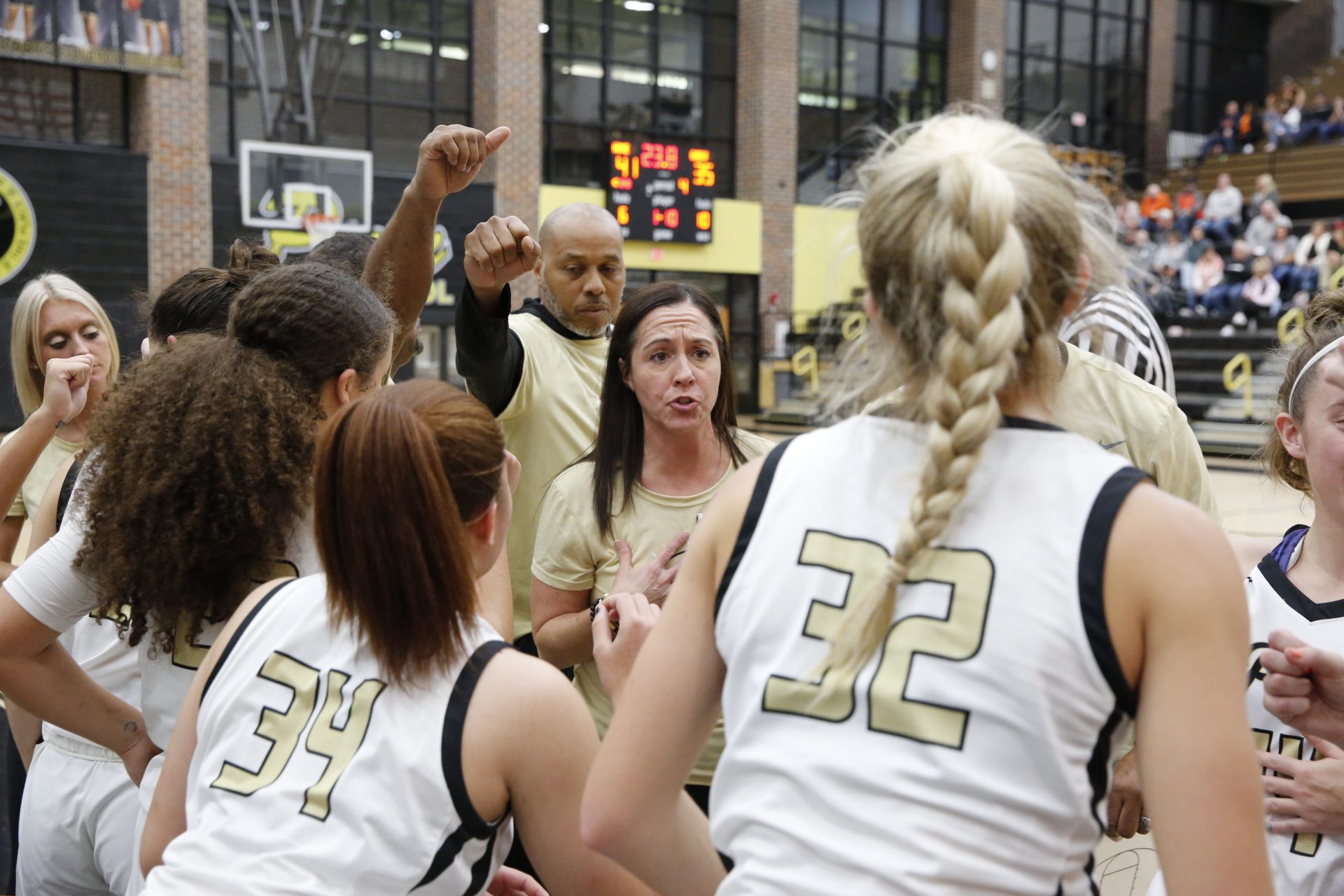 The Lady Kingsmen Varsity Basketball fell short against the Northridge Raiders during the Sectional game at Concord, ending the Kingsmen's season. Penn lost 59-52.
The Kingsmen and the Raiders kept it tight in the first two quarters of the game. The Kingsmen scored a combined total of 29 points, and the Raiders 25 points. The Raiders came out stronger in the second half of the battle and scored 24 points at the end of the third quarter and the Kingsmen with 10. The fourth and final quarter was closer in points, with the Kingsmen with 10 and the Raiders with 13, ending the game with a final score of 52-59.
The Lady Kingsmen Varsity Basketball team was composed of talented, dedicated players this 2022-2023 season, with players from all grades stepping up and becoming key contributors to the team's success. Sophomore Point Guard Jessa Troy played an important role on the team this season and showed to be a strong player. Troy says that this game against Northridge wasn't going to be an easy one, and it would take lots of dedication and focus to perform well.
"We knew it was going to take 32 minutes of focus and consistency. We couldn't take a break or a play off against them. We came out slow out of the first half and Northridge was able to feed off of that," Troy said.
Troy (22) ended the game with ten points, two steals, and two assists.
Sophomore Ava Stebbins also took part in the sectional game. This was her first year playing on Varsity, and Stebbins talks about how it took lots of focused practices that would help the team get locked in on game day to perform their absolute best.
"During practice each day, we all had to make sure that we were focused, paying attention to detail. We knew that to compete with Northridge, we had to play extra hard in practice so that when game time came, we were locked in and prepared to execute our game plan. Throughout the game, we really just were trying to do the little things and play together as a team. It was important for us to transfer what the coaches were telling us onto the court," says Stebbins.
Upperclassmen on the team, such as Julia Economou, Peyton Brooks, and Lauren Walsh, were crucial contributors to this Sectional game.
Julia Economou (32) scored a total of 17 points for her team, with an additional six rebounds and two steals.
Lauren Walsh (24) scored 12 points, working hard both offensively and defensively, with a total of six rebounds and five assists, and three turnovers. Peyton Brooks (34) also played a great game, with 11 points and five total rebounds.
This was an emotional yet exciting game for the Lady Kingsmen, especially for the upperclassmen. Junior Kate Noonan elaborates on that and says that in the end, the team worked hard and was constantly supporting one another, keeping both their spirits and discipline up.
"It was definitely a tense game since we had a large target on our backs and all throughout the game we were focused on winning it quarter by quarter," Noonan explained.
Despite it being a tense game, Noonan says that after some reflection, the Kingsmen were able to appreciate the lessons and growth they were able to obtain not only from this game but from their season.
"And obviously, after the game, we were upset with the outcome but we quickly turned that into an appreciation for the season and the memories," Noonan said.
The Lady Kingsmen ended their season with a record of 16-7, ranking them third in the Northern Indiana Conference, and 33rd overall in the Indiana Division 4A.